Tecsel® Self-leveling Silicone
Tecsel® self-levelling silicone is a fire resistant sealant based on neutral curing and self-levelling silicone rubber. It is designed to be applied to expansion joints on horizontal surfaces that are intended to bear substantial movement.
It is an ideal solution for sealing off openings in slabs, facades and curtain walls.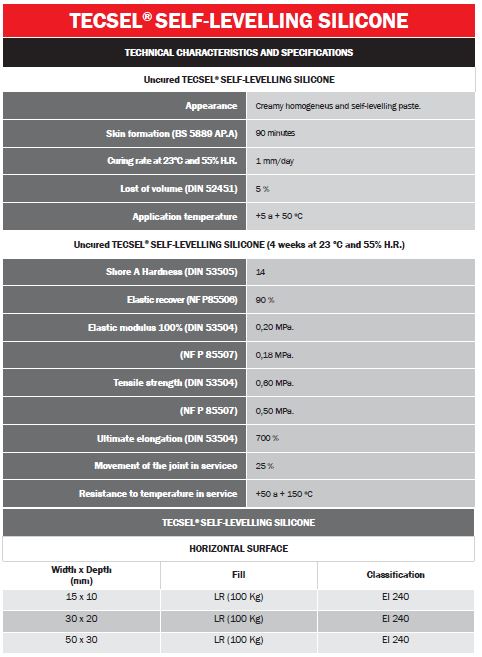 Test: PROTOCOL / UNE EN 1366-4 y UNE EN 1363-1
Laboratory :CIDEMCO TECNALIA
Test Nº :28751
The following formula is used as a rough guide for performance calculation::
L=1000/AxP
Where:
L= Length of the joint achieved per litre in metres.
W= Width of the joint in mm.
D= Depth of the joint in mm.
Application and Use
100 kg rock wool must be used as a base. The rock wool prevents stresses from being transmitted to the sealant and allows for an even depth of silicone to be achieved.
In light of the texture of this silicone, it is only applicable to horizontal joints, which in turn must be on horizontal surfaces.
The surfaces onto which it is applied must be dry and free from dust, oils, dirt, loose particles, etc.
Covering the joint edges with adhesive tape or similar in order for an even finish.
It is important to check that all cracks have been filled in properly and the adhesion level between the substrate and the mastic.
Tecsel® Self-levelling Silicone cannot be painted or varnished.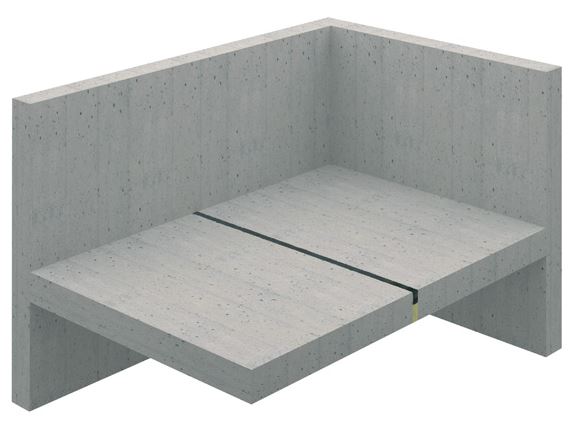 Do you have any questions about the product?