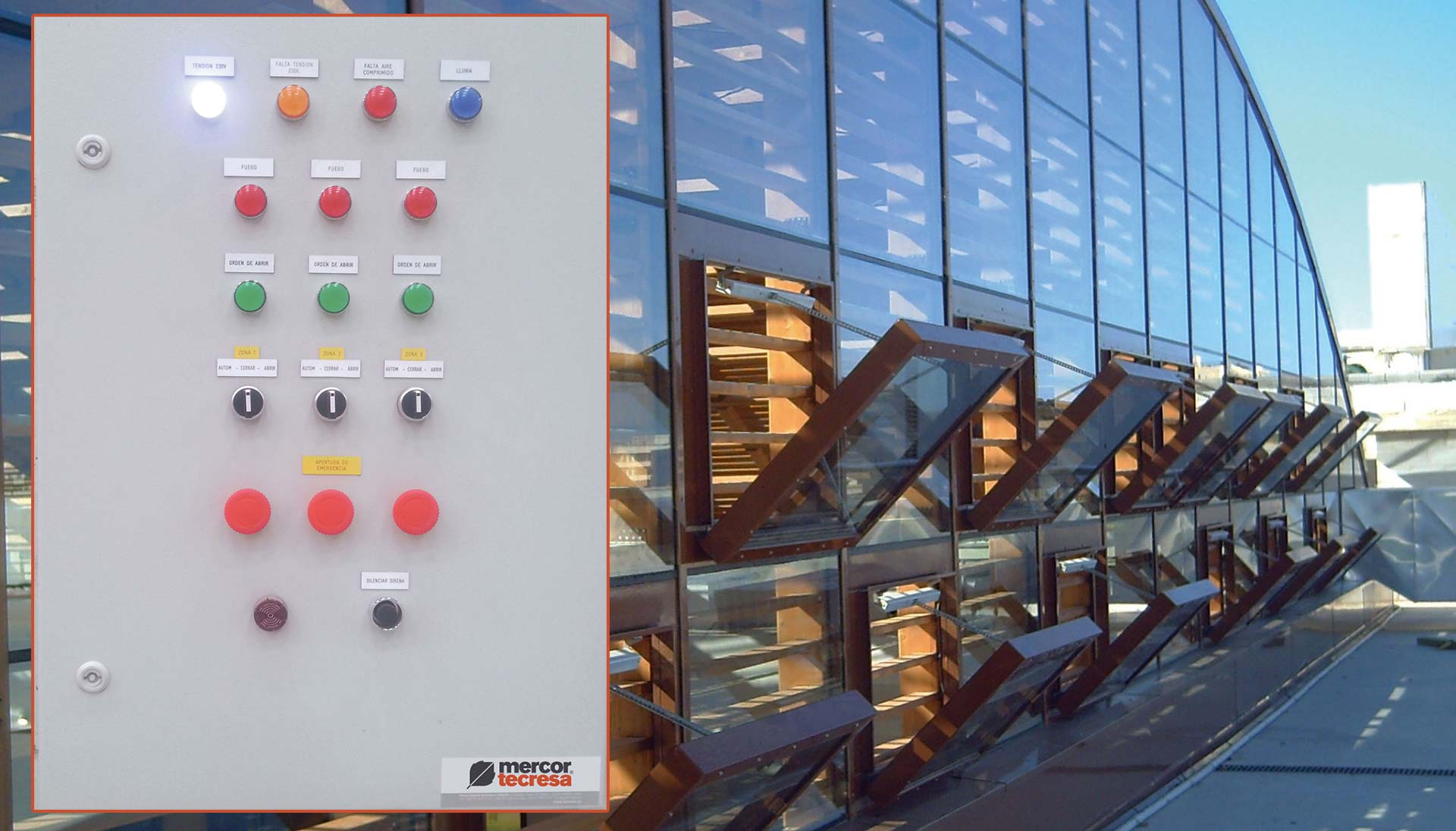 Control & Management of Ventilators
Control & Management of Ventilators
Description
The Control and management system is the heart of any installation. In mercor tecresa® we provide applicable solutions to any project, from the basic ones to the more sophisticated.
We offer for our Control Systems a design, manufacturing and installation full service. They can be used in any type of smoke extraction installation, mechanical extraction, or smoke compartment and pressurization, with a wide
range of available options depending on the requested features.
Available in a wide range of options. Only for emergency or dual model of ventilation.
Operating
The most sophisticated Control Systems have the latest electronic advances for a centralised management of the exhaust system and the smoke compartment. The main panel can have a central processing unit connected to zonal management machines by a communication bus to allow a continuous monitoring of all the system elements.
Every zonal machine forms a transmission/reception unit of digital or analogue signals, to process the manoeuvre orders sent from the main panel and the receipt of the status signals in every equipment.
A 15 inches touch screen with colour display together with a data display allows the representation in the main panel of the complete status of the system. It shows the smoke compartment condition, the equipments state, the control signal state, possible failures, power failures, etc.
PANELS FOR EMERGENCY USE ONLY (TCO2)
We offer panels with manual operation for simple installations where automatic opening of the equipments through the fire signal is not required.
An emergency button, for exclusive use of the fi re brigade, release a CO2 bottle which activates the opening of the equipments instantly.
Features
Metallic closets provided with security locks and glass to be broken in
case of emergency.
RAL 3000 (fire red) powder-coated.
Ø 6/8 mm valves for adaptation to exit pneumatic lines.
OPEN / CLOSED visual indicators.
Disposable CO2 bottles in various sizes.
Possibility of interconnection with the detection system by an auxiliary
module if necessary.
PANELS FOR EMERGENCY USE & NATURAL VENTILATION
In the case of installations using the ventilators for natural ventilation as well as smoke extraction, we offer control panels provided with a programmable machine (PLC) and the possibility of connecting rain, wind, temperature, humidity sensors, etc; to control the opening and closing of the equipments depending on the desired parameters.
The interconnection with the detection system signal guarantees the automatic opening of the equipments in case of a fire. The system has emergency manual key buttons to be operated by the fire brigades in case the detection system did not work.
Regarding pneumatic ventilators, an independent compressor with a spare tank guarantees the ventilators functioning under any circumstances.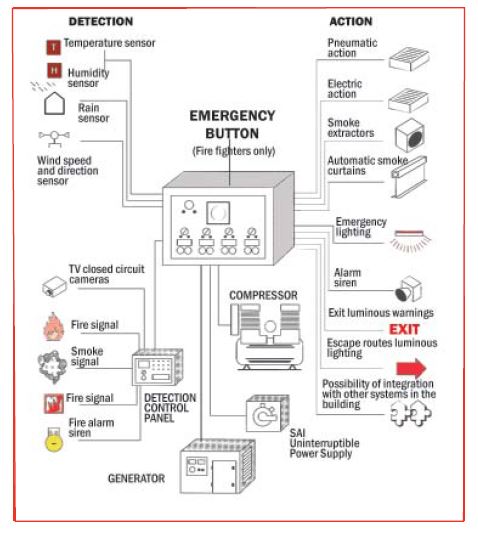 Features
Control of the equipments through independent zones.
Interconnection with fire detection system.
Supply system.
OPEN / CLOSED visual indicators.
Optical and acoustic signalling.
Situation General synoptic, status indicator leds and acoustic alarm.
Do you have any questions about the product?