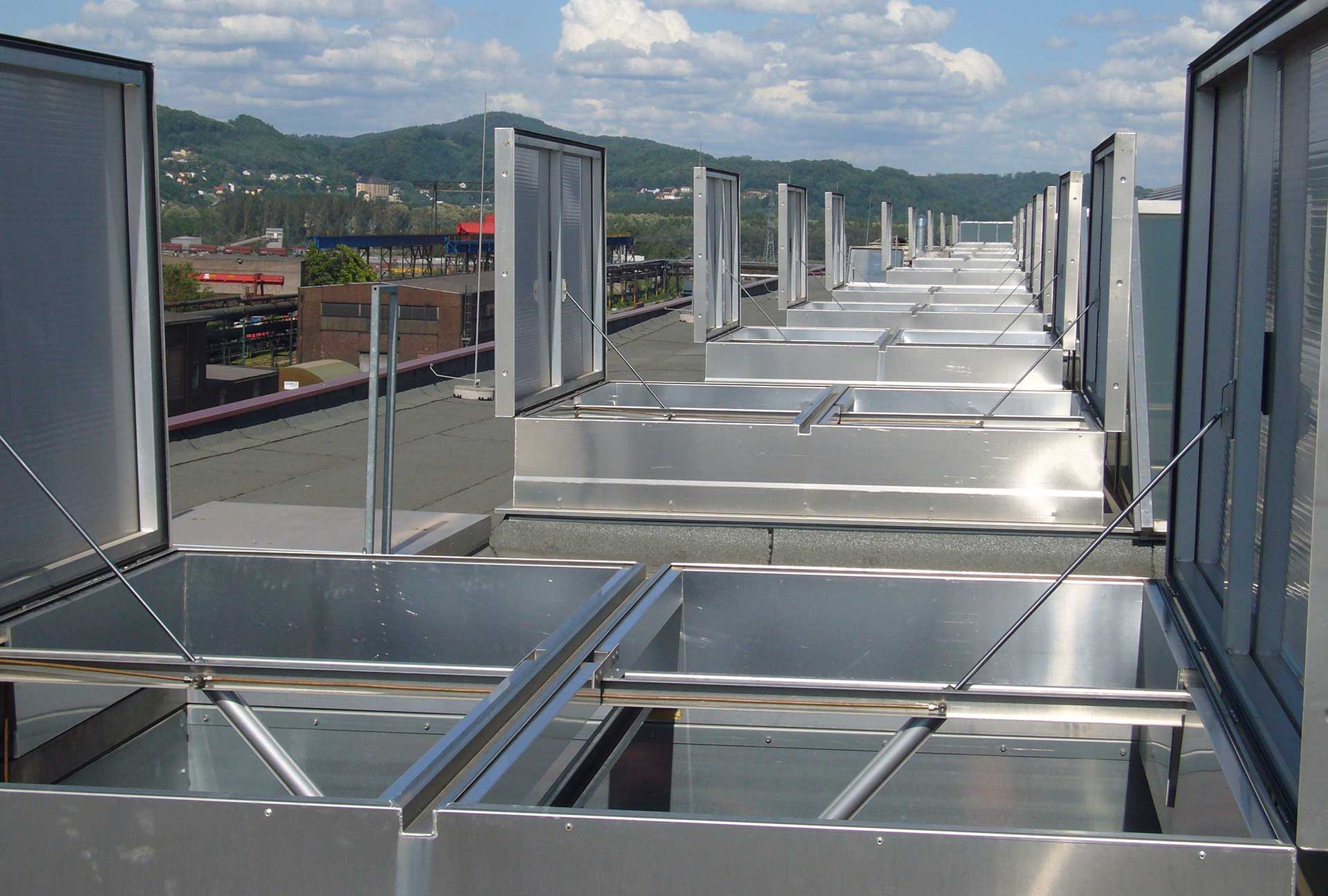 Twin flap ventilator - DUO THERMA
According to Standard EN-12101-2
Twin Flap Ventilator Duo Therma
Description
Duo Therma is a twin flap system designed for both smoke and heat exhaust and daily ventilation. The countless options available in terms of the base and flaps, as well as numerous operating systems and accessories, enable the creation of a functional solution for any type of building: from industrial properties to cold stores, and from commercial centres to theatres and offices premises.
The cold bridge-free Duo Therma TG fitted with a thermally separated base and flaps offer a high level of durability. It minimizes condensation forming and offers advanced comfort features. In the event that sound insulation is also required, two fully acoustic versions of the Duo Therma TG model are available, which have Rw values of 34 dB and 44 dB.
Accesories
Bird or insect mesh
Fall protection
Burglary prevention features
Insulated flanges
RAL colour / anodized
Controls
P2 double-action compressed air operation.

M motor operationOptions:
Optional:
B including fire function
FS failsafe including fire function
Materials
Base and flanges: Sea water and corrosion-resistant EN AW 5754 (AlMg3) sheet aluminium is used in the Duo Therma TG models; the Duo Therma TG models are made of EN AW 606035 (AlMgSiO,5) extruded profile sections which are thermally separated.
Sealing: All-round, using coated EPDM rubbers, which prevent freezing while guaranteeing a high level of air tightness.
Hinges: Stainless steel.
Flaps: With or without thermal separator.
Choice of: uninsulated or mineral wool-insulated aluminium flap, 16 to 55 mm transparent multi-wall polycarbonate filler, single safety glass, insulated safety glass, or a high quality acoustically insulated flap.
Finishing: Standard blank aluminium or coated in a standard RAL colour.
Do you have any questions about the product?