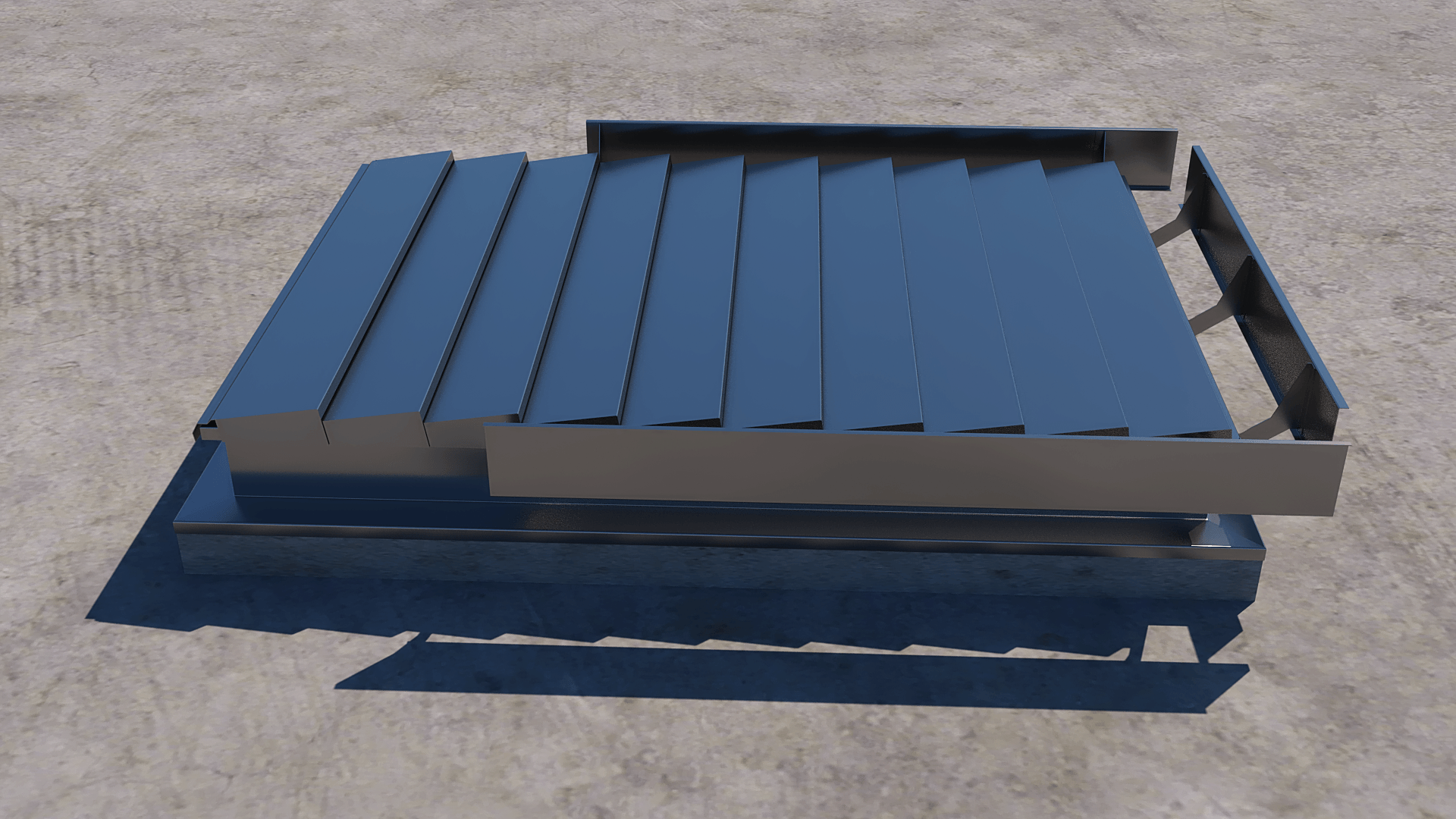 Louvered ventilator LAM
According to standard EN   12101 – 2
Louvered Ventilator for Smoke Evacuation LAM
Materials
The base is totally manufactured in aluminium AlMg3, resistant to corrosive and marine environments. It can be thermally isolated if necessary. If standard height is 20 cm, it can be made in one piece. It can also be manufactured in other heights on request.
The louvers can be manufactured in aluminium double layer with or without isolation, same alloy as the base and the polycarbonate. The louvers drain water to the outside and have EPDM gaskets ensure complete sealing.
Its rotation system on self-lubricating bushings can reduce maintenance work.
The TECRESA mcr LAM ventilator is supplied with deflectors to protect them from the effects of wind ensuring its aerodynamic efficiency.
Controls (release and closing mechanisms)
The quality of the materials and actuators which form the Tecresa mcr LAM vent, allows not only its use for smoke and hot gas exhaust in case of a fire, but also makes it an ideal system for daily natural ventilation.
In emergencies, this ventilator has a mechanical interlock that guarantees its opening despite of suffering damage in case of fire.
Both electric and pneumatic systems require minimal maintenance based on usage. The electric option is supplied with electrical actuators to 24 V DC, while the pneumatic option assembles pneumatic cylinders according to the needs. This type of opening has a security system that includes a secondary power source and a device consisting of a moron activation thermal fuse between 57 ºC and 260 ºC to select according to project.
Parameters to choose
1. number of louvers: from 4 to 19.
2. width of ventilator: from 50-250 cm.
3. type of base:
* H – base without thermal insulation.
* H0 – base with thermal insulation.
4. base height: to 15-60 cm.
5. opening / closing controls:
* Pneumatic double – acting.
* Pneumatic single-acting.
* Electric 24 V DC.
6. type of louvers:
* Aluminum of double layers.
* Isolated aluminium.
* Clear /opal polycarbonate.
Do you have any questions about the product?