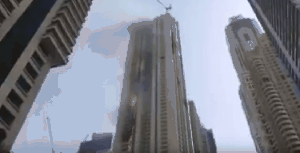 A residential skyscraper in Dubai has caught fire in the densely-populated Marina district
Actualizado a fecha: 2 December, 2018
A residential skyscraper in Dubai has caught fire in the densely-populated Marina district, sending plumes of smoke into the air and pieces of the building's facade tumbling below. The blaze engulfed the upper floors of the Sulafa Tower but quickly spread and affected more than 30 floors and scorched the exterior of the building. It also appears to have spread to the interiors of some of the apartments.
People who saw the fire said the flames "spread like wildfire" but firefighters "did an amazing job" of getting it under control. Firefighters could be seen on some of the balconies trying to reach out to extinguish the fire.
The most prominent was a New Year's Eve inferno at a 63-storey residence near the world's tallest tower the Burj Khalifa. Police blamed that fire at The Address Downtown Dubai building on faulty wiring.
Dubai has vowed to supervise construction crews more strictly and monitor the material they use, as well as implement new fire safety regulations. Despite of it, materials used in these skyscrapers are not high quality. Also, the fire protection used is low or practically nil. In this type of building, fire protection should be more important since a single spark coming from a short circuit can ignite an entire building and even the surrounding ones.