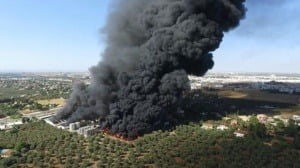 Fire at the oil factory Ybarra in Spain
Actualizado a fecha: 2 December, 2018
The fire that destroyed most of the main factory Ybarra Group, located in Dos Hermanas (Sevilla), may affect more than two hundred workers in the Seville plant dedicated to oil, mayonnaise and sauces.
The general director of the group Ybarra Food, Francisco Viguera, has followed from the outset the work of extinguishing the fire, initially attributed to the magnifying effect of a package on combustible material. The flames have been favored by the intense heat above 40 degrees, and the strong easterly wind. At noon on Sunday, still it remained with 20% extinguish the fire.
Around fifty firefighters from different parks in the province of Sevilla spent the night fighting the fire originated this Saturday at the factory oil Ybarra Food Group in the Seville town of Dos Hermanas.
It is present in more than 80 countries and sells oil brands like Ybarra and La Masia, as well as a variety of products (mayonnaise, sauces, vinegars, vegetables, olives, tomatoes and salt).
Compartmentalization  and sectioning against fire by partitions walls, fire-break false ceilings and smoke dispersal systems are very important in any construction way to avoid fires. We have already seen fires in spanish meat products  factory (Campofrio's Factory Fire).
Source: Archy Worldys