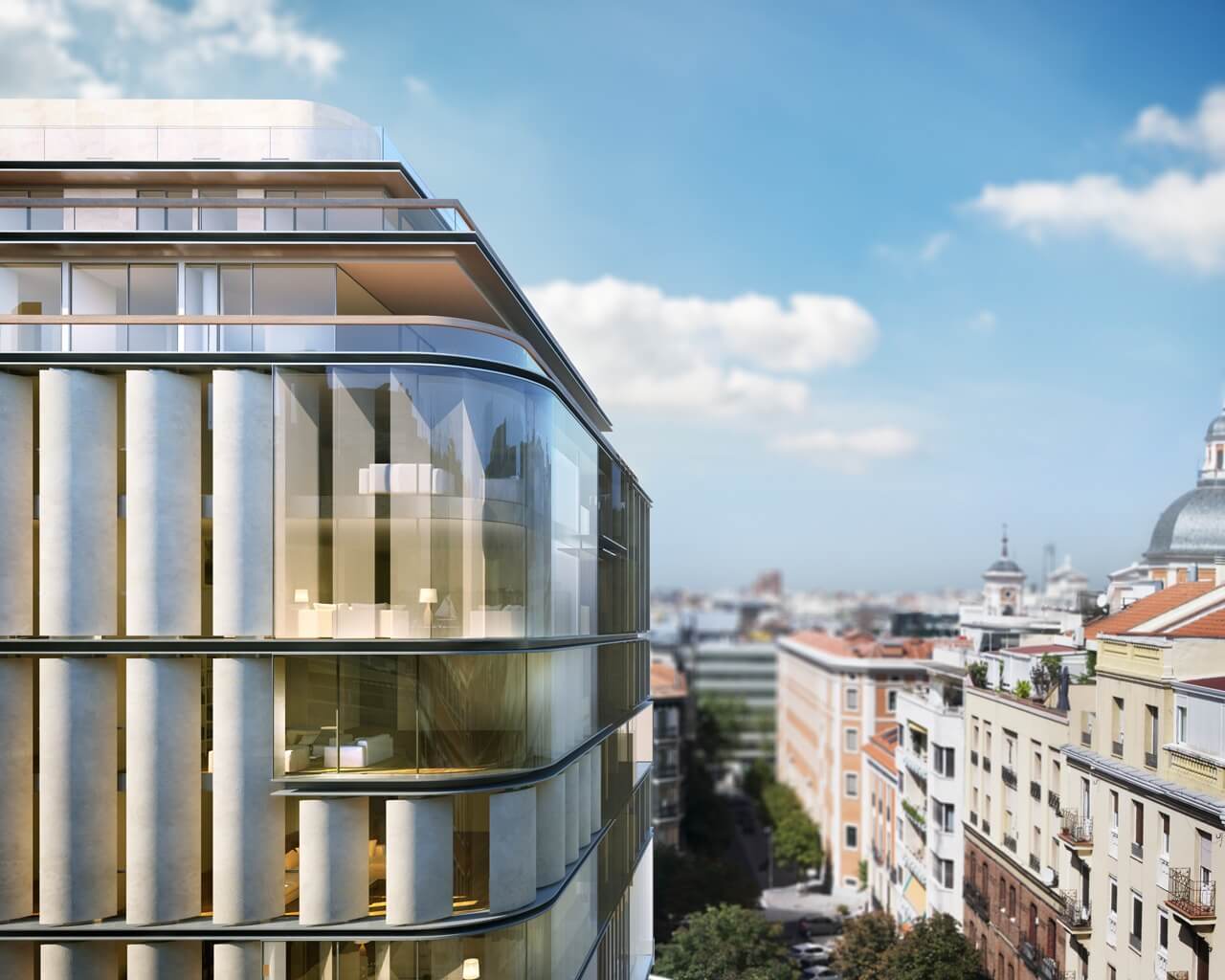 This is how the new Lagasca99 homes look like (or how to live in a 5-star hotel)
Actualizado a fecha: 2 December, 2018
Swimming pool at the rooftop, an English garden, sustainable illumination, automation system… This Madrilenian neighbourhood welcomes a very exclusive-services building.
Everything evolves at an accelerating pace and Real Estate does not want to be left behind. Not only materials have been improved and sustainability is supported. New projects consider a new home concept, which includes becoming a 5 stars hotel thanks to their services. New York, London or Paris already have this kind of homes. Madrid is the next one, specifically at Salamanca neighbourhood, where we will find the new Lagasca99 building.
This building consisting of 44 houses from 300 to 700 m2, a work by the architect Rafael de la Hoz and promoted by Grupo Lar, occupies a whole block area. Its luxury façade is also specially designed for pedestrians joy thanks to its double-skin system. The first one, made of glass, with chamfered corners typical from early XX architecture; a second skin, made up of Travertino stone and Indonesian merbau wood pilasters.
This eight-floor building shows other particularity: it provides a spinal column at the central structure with all the hidden installations. There are five types of different homes, one of the most noteworthy being the duplex penthouse with private pool and terrace.
Neighbours of this particular building will also enjoy a gardened rooftop with spectacular views of Madrid city, where an L-shaped pool will be located. A heated pool will also be located at the ground floor, which will allow exercising thanks to two counter-current swimming systems. This ground floor will also provide fitness facilities, spa installations, Business Centre, meeting room and an English style club.
Beside these installations, there will also be an available "concierge" facility, which includes services such as restaurant or event booking. Lagasca99, sold by Colliers Internacional, supplies 150 parking spaces, apart from a VIP garage to keep the privacy of the interested dwellers.
An environment-friendly building
This new apartment block placed at Salamanca neighbourhood has been designed from its very beginning as a sustainable building. It aims to get the BREEAM seal (Building Research Establishment Environmental Assessment Methodology), a sustainability evaluation and certification worldwide method, with 20 years of experience. Among other aspects, it certificates that the building construction decreases the energy consumption between 50% and 70%. This certification is almost granted thanks to its low-energy and low external impact lighting.
The Lagasca99 building provides solar panels for hot water supply and a rainwater collection system for garden use. Inside each home, we will find radiant floor with "High Efficiency" technology for a better heat optimization. Double glazed windows grant thermic and acoustic isolation, as well as UV radiation.
Technology is also there: dwellings include an automation system which allows, for example, the heating is controlled by mobile phone, making the efficiency a way of life.
mercor tecresa® is currently providing sectorization works.
Source: El Confidencial