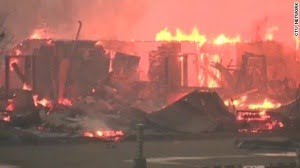 Worst fire in the 21st century towns and cities
Actualizado a fecha: 2 December, 2018
Over the years, there have been many large fire in cities (Rome, Chicago, Boston, London…). They all started somewhere in the city and were not extinguished. Fortunately, today we have enough fire protection resources to prevent these "small fires" from developping and wrecking entire cities as before.
These are the worst fires in cities of the XXI century:
2000s
2002 – Lagos armoury explosion causes fire which killed at least 1,100 people
2002 – Edinburgh Cowgate fire
2002 – Rodeo-Chediski fire
2003 – Canberra bushfires fire that killed 4 and destroyed over 500 homes
2006 – Day Fire, Los Angeles and Ventura counties in California.
2007 – Greek forest fires, large fire in Greece
2008 – Camden Market Fire, which caused severe damage to one of North London's most famous shopping districts.
2009 – February Black Saturday Bushfires – Victoria, Australia, 173 deaths, refer to separate page
2009 – Kenyan oil spill ignition kills at least 111.
2010s
2010 – 2010 Dhaka fire kills 117 people in the Nimtali area of Old Dhaka, Bangladesh
2011 – Devastating fire in Manila, Philippines leaves about 8,000 people homeless and 9 injured in a Makati City squatter community.
2012 – Hurricane Sandy: A six-alarm fire caused by hurricane damage destroyed 121 homes in Breezy Point, Queens, New York
2013 – Yarnell Hill Fire: Over 13 square miles, destroyed over 100 homes, and 19 members of the Granite Mountain Hotshots were killed in action
2013 – Lac-Mégantic derailment: Over 30 buildings in the town centre were destroyed in a train derailment, explosion and fire which caused 46 confirmed deaths. The fire made the event the deadliest train accident in Canada's history since 1864
2013 – Boardwalk fire in Seaside Heights & Seaside Park, New Jersey, U.S.A. At least 19 buildings destroyed, 30 businesses lost, no major injuries
2014 – Valparaíso wildfire in Chile – wildfire destroying several areas of Valparaíso, Chile killing at least 13 people
2014 – Lahore supermarket fire in Pakistan – in Anarkali Bazaar, Lahore. The fire killed at least 13 people
2015 Tianjin Port fire and explosions August 12, killing at least 173 people, damaging 300 buildings and over 10000 vehicles. Fire set off two major explosions and numerous secondary detonations.
2016 – Fort McMurray fire in Alberta, Canada – started 1 May.
2016 – A four alarm fire occurred on May 5, 2016 in Spring Branch, Texas