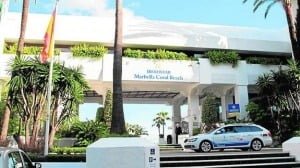 A fire broke out in a hotel in Marbella evacuating 300 people
Actualizado a fecha: 2 December, 2018
A fire broke out in a hotel in Marbella during last weekend. The blaze began in the sauna facilities.  The Hotel Iberostar Marbella Coral Beach, a four stars hotel with 170 rooms and arround 300 clients had already returned to normality and staff to their jobs without no damages to be regreted.
The fire originated in the sauna area. Fire sources said that although the area of ​​the incident is located in a second basement, an area with an easy access.After ventilation works, customers were able to return to the building as the material damaged that caused the flames were confined to the wing where the sauna is located. The hotel management, declined to make any statement about the incident.
The hotel disposed of customers in an orderly manner according to their emergency plan
Apparently, the fire originated from still unknown causes at around 16.20 hours. The hotel staff, while giving notice to the emergency services, evicted customers in an orderly manner, following their own protocol. Local Police sources indicated that during the duration of the operation's intervention, 250 to 300 clients of the four stars were prevented from taking preventive actions.
Importance of fire protection and evacuation in hotels
Vacations and business travel make hotels and motels our home away from home. It is just as important to be prepared and know what you would do in a hotel/motel emergency as it is in your own home.
We would like to remind you the fire at the MGM Hotel Grand Fire in Las Vegas in 1980 where 85 people died. That's why hotels should have a fire safety. Law should be tougher in order to avoid this kind of fires. We cannot play with lifes. From Mercortecresa we recommend to install a good fire protection system.