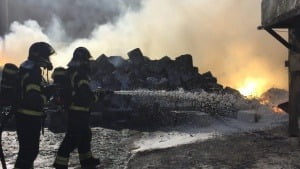 A fire causes a big toxic cloud close to Madrid
Actualizado a fecha: 2 December, 2018
The Emergency Services have already deactivated the massive warning to citizens in Griñón, Humanes and Moraleja de Enmedio (Madrid), so that they couldn't leave their homes during the weekend before the toxic cloud that has caused the fire of 40 tons of magnesium and aluminum chips in an industrial unit in Fuenlabrada.
The incident has left a 47-year-old injured with second-degree burns and forced to evacuate the industrial unit and the Hotel Ciudad de Fuenlabrada. It has also burned a truck and a container.
The fire originated around 9.20 outside a warehouse. The investigation is still on so reasons remain unknown. Those 40 tons of magnesium and aluminum chips continued burning, in a fire whose propagation has been avoided by firefighters, who can not suffocate it with water because of the products burning so they had to do it with a special salt.
Before what happened, we have several doubts; Did they use any fire protection system according to the materials in the industrial unit? Is it cheaper paying a penalty than comply with the law? Should penalties for non-compliance be increased?