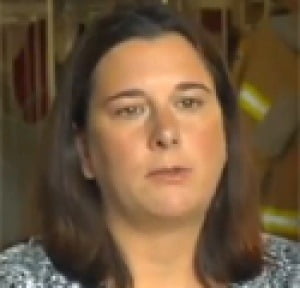 A fire ruined her life
Actualizado a fecha: 6 October, 2021
A house fire took away Angie Roach's independence and ability to continue in a career she loved.
"After my accident, my life has changed tremendously. I was a very active person. I had been married a couple of years, had a nine-month-old and a four-year-old and everything was perfect in my life. Then I was burned and I had to depend on my husband and depend on my family members and that was very hard to do being such an independent person."
Name: Angie Roach
Date of fire: August 2007
Location: Hall County, Georgia
Injury: Burns on 45% of her body, forced to abandon firefighting career
For Hall County (GA) firefighter Angie Roach, what should have been just a routine knockdown of a house fire on August 4, 2007, quickly became a catastrophic event. Roach fell through the floor into the burning basement. She was trapped and unable to free herself. She was eventually rescued by her fellow firefighters. She suffered 3rd degree and 4th degree burns to 45% of her body. It was the worst on-the-job injury any Hall County firefighter had experienced. It took Angie a while to realize that she was not the same person she was before this happened. The fire had taken away her independence and the ability to continue in a career she loved.
Source: Fire Sprinkler Initiative