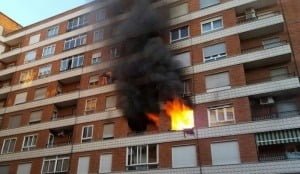 Assessment of fires during 2016 in Spain
Actualizado a fecha: 2 December, 2018
The first data collected through firefighters, insurers and fire news in 2016, say that there were about 125,000 interventions from firefighters and 172 fatalities in Spain. In the area of ​​residential fires the number of deaths in Spain during 2016 is 116. In comparison to the data collected from the 2015: 164 victims in total and 109 deaths at home, there has been an increase of 7% in fatalities and 20% more interventions by firefighters in all types of buildings. The statistics provided by UNESPA about fire accidents in residential buildings, say there were about 17,290. According to fire sources, during the year 2016, 14,989 interventions were recorded inside the houses.
The most frequent causes of fires are: defective heat-generating appliances, overloading, faulty electrical installations, oversights (leaving a stove on overnight, leaving lit candles unattended, leaving the pan on fire while answering a call, etc.). The absence of basic fire safety measures inside the house  makes impossible to detect a fire in its initial phase or extinguish it in that phase. Similarly, the 90% of old buildings and the 20% of new buildings do not have the basic safety measures required by the Technical Building Code in the common areas: portal, stairs, storage rooms, garages, boiler rooms .
The unfortunate summary highlights that the highest rate of fatalities in houses is an old man living alone; the time: during the night; the season: winter; the place: the living room, followed by the bedrooms and the kitchens.
Before this data, which is increasing every year, Mercortecresa develop passive fire protection systems for fire safety. It is possible to protect against a fire and avoid deaths in many cases. It is only necessary to keep certain precautions and preventive measures and install some device that warns us against a fire for example.