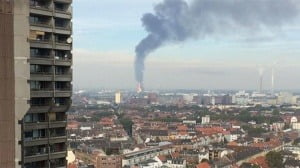 Fire at the biggest chemical plant in the world (Germany)
Actualizado a fecha: 2 December, 2018
At least one person was killed and six were seriously injured in an explosion at a chemical plant in Germany on Monday. Police said there was no indication the incident at the BASF complex in Ludwigshafen was terrorism-related, and they were treating it as an industrial accident. Ludwigshafen is the headquarters of BASF, the largest chemical producer in the world. The company employs more than 110,000 people worldwide and 52,000 in Germany alone. It recorded sales of €70bn (£63bn) last year.
Rescue workers battled to contain a major fire set off by the blast, and firemen were among the missing. Residents of Ludwisghafen and the neighbouring city of Mannheim were advised to stay indoors, close all windows and switch off ventilation systems as smoke drifted across the area. Schools are nurseries were advised to keep children inside. Some local residents reported breathing difficulties but a spokesman for BASF said air tests had indicated there was no danger.
The cause of the accident was not immediately clear, but it appears to have been caused by work on a pipeline. The site of the explosion is a harbour used for the transport of highly flammable liquids and liquefied gases.
Protection measures in petrochemical industries have to be higher than the rest of buildings due to the fire virulence when it happens. That is why it is very important that the supporting structure and any other fire spread element are protected against fire and its consequences.