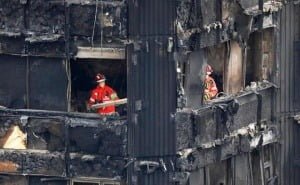 Fire Survivors: Grenfell Tower
Actualizado a fecha: 2 December, 2018
Residents of Grenfell Tower who managed to escape the fire that ravaged their building, described how they fled as the blaze took hold. The survivors, whose belongings have been destroyed, gathered in the nearby Rugby Portobello community centre where they were given water, clothes and blankets. Its testimony makes us clear that there were many irregularities during the building restoration and choosing materials.​
First Survivor in Grenfell Tower Fire
One resident, who did not want to give his name, said he first heard a neighbour's smoke alarm and "thought nothing of it", but realised something was wrong when he heard a neighbour shouting. "I'm lucky to be alive – and lots of people have not got out of the building," he told Guardian. "I've lost everything I own. I'm standing here in everything I've got."
Second Survivor in Grenfell Tower Fire
Siar Naqshabandi lives on the third floor with his brother and had been out when the blaze took hold. "I came back at about 1.45am and saw the building was on fire. I rang him [his brother] and said, get out." He has more family living on the 23rd floor and an uncle is still missing. "They were telling people not to leave the building. I told them to get down. They said we're not allowed to get out."
Third Survivor in Grenfell Tower Fire
David Benjamin, who was staying at his girlfriend's flat on the 4th floor, told the BBC he was asleep when he heard banging. He got up to investigate and heard a neighbour shouting "fire! fire!".
Thinking he and his girlfriend might be safer inside the flat, he went back in and phoned another neighbour who told him to flee immediately. "We put on our trainers and went outside and saw people running, there was thick smoke. Our neighbour said to get out so we rushed out and rushed down the stairs." 'It just caught up like a matchstick'
Fourth Survivor in Grenfell Tower Fire
Another man who fled from the 17th floor said he was alerted to the danger by the arrival of fire engines. "We saw the fire engines, so we were looking outside at what's going on. There was no fire alarms anywhere, because we don't have a kind of integrated fire system – it's just everyone's house for itself.
"I walked out into the common area to see if the lifts are moving, to see if people are in a hassle – nothing. But I could smell the smoke." The man said he only saw fire when he stuck his head out of the window.
"I went back inside the house, looked out the window. I started looking down the window – I had to really pull myself out to look down the window, from the 17th floor, and I see the fire blazing, and coming up really fast, because of the cladding – the cladding was really flammable (you can see it on the video above), and it just caught up like a matchstick."
He said he managed to get himself and his 68-year-old aunt through thick smoke and out of the building, but said he feared for the fate of others who waited longer to make their escape.
Fifth Survivor in Grenfell Tower Fire
A woman at the community centre was searching for her friend's five-year-old daughter, who had become separated in the aftermath. Ahmed Chellat had come to the Rugby Portobello with his wife to look for his brother-in-law, his wife and three children. "We don't know what's happened," he said.
"I asked him to come out and he couldn't. He was advised to put towels under the doors and he said they will come for him. We've heard nothing. Last time we spoke to them was about 2.30. He said the fire brigade's coming up to me."
Many of the survivors criticised the lack of information they were receiving.
"There's no coordination from anyone," he said. "The police have not come to speak to us. We've been unable to give anyone our names. It's been five hours. There's people here who don't have a clue if their relatives are alive or dead."