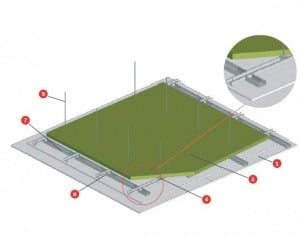 Independent Ceiling EI-120 with Tecbor® Panel
Actualizado a fecha: 5 September, 2019
One of the most common and used solutions of our catalog is the EI-120 Independent False Ceiling solution which main advantage is its lightness, simplicity of assembly and cost.
This system consists of a double Tecbor board of 12 mm and a rock wool blanket of 40 mm of thickness and 40 Kg / m3 of density. The support of the same, as with all our systems, is made with the usual ceiling profile which is easily acquirable in any warehouse. This structure is made up of TC 60/27 arranged in cross forming blocks of 610 x 610 mm and hung from the ceiling by metric rod 6.
Its main advantage compared to other competing systems is its lightness and simplicity of assembly. Its weight is around 20 kg / m2 while the rest of systems EI-120 has more than double its own weight. The last one has two problems:
–  It gives a clear "overweight" (about 40 kg / m2) of the support structure which, in most cases, is not raised for this overload compared to the 20 kg / m2 of our system. Let's think that it is commonly used in rehabilitations, with metallic reinforcements and forged with wooden beams.
Difficulty system assembly. We talk about having to climb and mount two plates about 25 mm thick and 41 kg each. This means difficulties both in the speed of execution and in the weight that the operators have to raise until they put the plate in its right place, in comparison to the 9Kg / m2 that weighs our plate.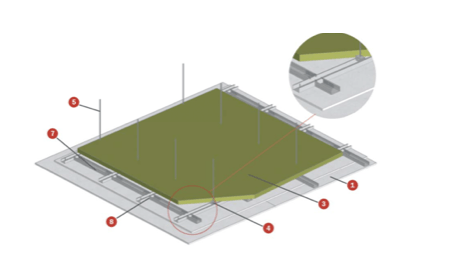 Another advantage of our system is the possibility of having sharp edges. It will help us to leave a better finish of the joints, without problems of cracking and ready to paint, without noticing the projections on the roof due to the treatment of joints, which in many cases requires having to perform an additional finish on the rest of the plate not to be noticed.
This system has been tested in accordance with the standard UNE EN 1364-2 which is the one that regulates the resistance to fire of non-bearing elements. Part 2: False ceilings. As with other systems, it is necessary to look after the installations in the false ceiling that seal electrical trays, plastic pipes with our Tecsel sealing systems and ventilation ducts with their corresponding fire doors. A final note: this kind of EI-120 enclosures are not valid to sectorize ventilation / extraction ducts that circulate through several fire sectors, because in case that the fire passes inside the conduit, this would collapse the false ceiling quickly with its bearing structure. That is why a Fire Resistant Duct tested for external and internal fire must be used.