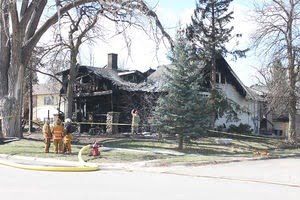 Five children died in a fire in the USA
Actualizado a fecha: 2 December, 2018
Five children have now been confirmed dead following an early Saturday morning house fire in Spearfish. Those children, ages 6 to 9 years old were from multiple communities.
The cause of the fire remains unknown 
At 4:23 a.m., dispatchers received a report of the fire at 1135 Ames St. Upon firefighters' arrival, the house was fully engulfed in flames.
"Firefighters tried to make entry when the neighbors and family members told them there were people trapped inside." They did what they could, but with the volume of fire, there was just noway they could get in to perform a search."
The cause of the fire and the point of origin are under investigation. "All people have been accounted for. But with the possibility that this was a sleepover or some kind of party, I can't rule out that when we do a more extensive search, we won't find any more victims.
One of the firefighters said that "It was a stubborn fire and difficult to get to because the roof already started to collapse in the center.  We just couldn't put firefighters inside. We had our aerial ladder truck deployed, so we could get water from above and into the structure. The house is very much compromised by the fire, so it will be very difficult for us to conduct what we call overhaul to put out remaining hot spots without worry of the roof and/or the second story collapsing more than it already has," said the source.
"Someone once said from the horror of tragedy comes the best of humanity. And what we've seen this morning is an unspeakable horror but some extreme professionalism from our law enforcement, absolutely from our firefighters and our medical personnel".
How to stop this kind of fires?
House fires continue causing deaths and it seems that nobody does anything. From Mercortecresa we urge competent authorities to grab the bull by its horns to solve this situation. Even though this has happened in the United States, it could well happen at your home tomorrow. The application of passive fire protection systems during the construction stage is an economical solution compared to the damages that fire can causes later.