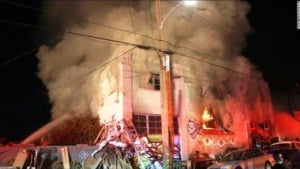 Oakland fire kills at least 24 people
Actualizado a fecha: 2 December, 2018
At least 24 people have been killed by a voracious fire that erupted at a nightclublocated in a two-story building in Oakland, California. About 50 people were inside the place, which is a warehouse that usually houses artists and musicians. According to our sources, there may be at least 40 deaths. The building is unstable and the search can not be completed for now.
Firefighters reported that there are "dozens" of bodies inside. 55 firefighters arrived. They claim that the construction did not have sprinklers, nor were the smoke detectors heard.
Those who managed to escape the fire published on Facebook descriptions of what they lived inside. "I literally felt that my skin was peeling and i was strangling because of the smoke. I could not even activate the fire extinguisher." Some who were on the second floor and could not reach the stairs, jumped out the window.
The causes of the incident remain unknown. Local press reports that investigators of intentional fires will arrive during the week at the scene. The fire is already considered "one of the most deadly" in Oakland.
This fire remember us to many others that happened in many other places. Some examples are the tragedy in Kiss, the gothenburg discotheque or Utopía in Lima.
Source: RT