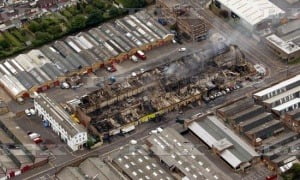 The MomArt's fire, 2004
Actualizado a fecha: 2 December, 2018
Momart is a British company specialising in the storage, transportation, and installation of works of art.
A major proportion of their business is maintaining (often delicate) artworks in a secure, climate-controlled environment. The company maintains two warehouse facilities adapted for this task. Momart's clients include the Royal Academy of Arts, Victoria & Albert Museum, National Gallery, Tate Modern, Tate Britain and Buckingham Palace.
The 2004 warehouse fire
In the evening of 24 May 2004 a fire broke out in a Momart storage warehouse in Leyton, east London. The warehouse was in the centre of a large industrial building that also housed other businesses around the periphery. The central warehouse was sublet from a household moving company.
The blaze, which continued to smoulder for nearly a day, destroyed almost all of the artworks stored within. Many of these pieces are great personal favourites and irreplaceable in British Art.
Art industry insiders noted that the insurance value of the works lost in the fire, particularly the "Britart" works in Saatchi's collection, would be many times their initial purchase price. The artworks lost were valued at between £30 and £50 million.
Christopher Redgrave, son of William Redgrave, whose major sculpture The Event was in the fire, visited twice and described the scene:
"There was a smell of rotting food, rotting chips, rotting meat from one of the units Momart shared the building with … There were bits of glass hanging from the roof. I had to climb over steel girders. It looked like a twisted rollercoaster that had crashed. This building was inappropriate for what they are doing. There's no way around that."
Our technical evaluation
As we see, not only human lives are lost in fires. Fire can ruin lives, leave people with no job and as is the case, destroy art heritage and ruining a part of our culture. The compartmentalization by firebreak sections, firebreak doors and sealed firebreaks in the electrical system are essential to avoid the spread of the flames or the smoke in case of fire.