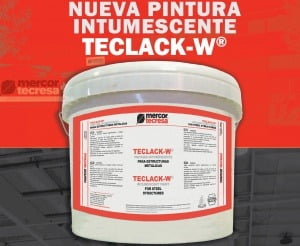 We launch a new fireproof paint for the protection against fire of steel structures
Actualizado a fecha: 2 December, 2018
"TECLACK-W®, new fireproof paint, water-soluble and intumescent for steel structures. Mercor tecresa® launched in September 2016 a new constructive solution for the protection of steel structures against fire.
Madrid, 23 September 2016. In September 2016 we launched our new product, Teclack-W®, it is a fireproof paint, intumescent and water soluble for fire protection of steel structures.
Teclack-W®, the new Mercor tecresa®'s intumescent paint has carrying capacity for metallic structures from 30 to 120 minutes with thicknesses depending on the critical temperature according to EN 13381-8.
In Mercor tecresa®, we continue developing new materials and constructive solutions for safety-related fire protection, acoustic and thermal insulation.
The main objective of the incorporation of this new painting to our catalog is to offer our customers a wide range of products and systems (our catalog) to meet the diverse needs in building and rehabilitation in the field of passive fire protection.
More information:
Mercortecresa Marketing and Comunication | |marketing@mercortecresa.com