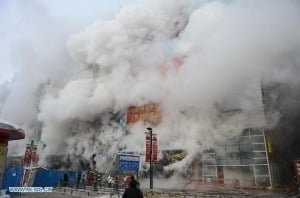 Worst Shopping Center's fire disasters
Actualizado a fecha: 2 December, 2018
The importance of Smoke Evacuation Systems in shopping centers is obvious. A small flame in any of the establishments within the center can fill it with smoke in a few minutes. That is why an evacuation system is vital to ensure the safety of the people who are inside it during the time of the fire.
The list of serious fires in shopping centers is serious. This is a list of the main shopping centers fires occurred since 2000:
December 24, 2000: 320 people killed in a shopping center in the city of Luoyang (China). Christmas was celebrated at a nightclub enclosure.
December 30, 2001: At least 277 people died, 189 were missing and another 137 were injured in several commercial buildings in the downtown of Lima (Peru).
February 15, 2004: 53 people died in a fire in a department store in the Chinese city of Jilin.
August 1, 2004: A fire in Ikua Bolaños shopping center in Asuncion (Paraguay) causes 365 dead and 400 wounded. The fire started in a grill and the owners closed the doors to prevent looting.
March 5, 2005: At least 12 people are killed and another 12 injured in a fire at a textile market in the city of Zhengzhou in Henan Province, China.
November 20, 2006: 18 people died in a fire at a market in Guatemala City.
January 7, 2008: At least 34 deads and six missing after a fire in a warehouse near Seoul (South Korea).
January 28, 2009: At least 21 people died during a fire in one of the major shopping centers in Nairobi (Kenya).
December 4, 2009: 20 people are killed and over a dozen injured by the fire in a karaoke in a shopping mall in the Indonesian city of Medan.
November 6, 2010: 19 people killed and 27 others injured in a fire at another mall in Jilin.
April 3, 2012: A fire at a market in southern Moscow kills 17 people.
May 9, 2012: At least 17 people died in a department store in Butuan City in the southern Philippines fire.
Many of this fires have something in common, the lack of fire protection. We cannot allow shopping centers not to be well protected against flames since these are places where many people go and the tragedy can be enourmous.