TECBOR® Boards - Constructive Solutions
Tecbor® Boards - Cable Tray
Protecting the wiring adequately will be crucial when electrical supply systems must be kept in optimal running conditions during fires. In tunnels, heavy traffic buildings or high-rises, it is of paramount importance to perform orderly evacuations while basic systems keep running.
Tecbor® B 40 mm has been tested covering a cable tray from different sections and evaluated according to UNE EN 1363-1 general requirements, following the heating curve defined by UL 1709 standard. Electric conductivity, short-circuit between cables and earth fault have been also added.
Facilities may be accessed through inspection hatches. Likewise, Tecsel® Grids allowing for ventilation and sealing the hole in case of fire have been tested (For additional information, please contact our Sales Department.).
Tecbor® B 40 / EI-120 Cable Protection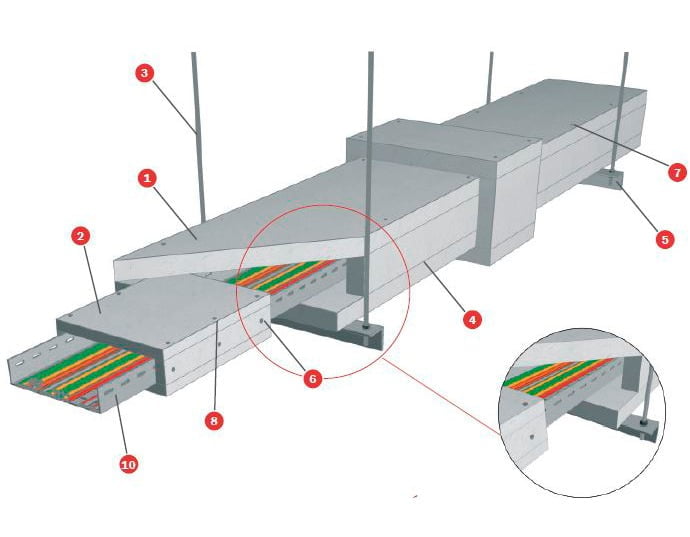 TEST

---

Standard: UNE ENV 1363-1. Curva de calentamiento UL 1709
Laboratory :CIDEMCO
Test Nº: 25417

SOLUTION

---

1. Tecbor® B 40 mm. boards.
2. Tecbor® B 20 mm boards.
3. M12 rod.
4. Tecbor® joint paste ready to use.
5. 50 x 50 x5 mm angle section every 1000 mm.
6. 3,5 x 45 mm self-drilling screw.
7. 5,2 x 80 mm self-tapping screw.
8. 3,5 x 45 mm self-tapping screw.
9. Slab.
10. Cable tray.
Description of Assembly
The tray is protected by a layer of Tecbor® B 40 mm boards set together with 5.2×80 mm selftapping screws. At duct section joints, place a 200 mm wide board strip of 20 mm Tecbor® B and fix it to the metal tray and to each other using 3.5×45 mm screws.
The duct is anchored to the slabs with a 12 mm rod and supported by 50x50x5 mm angle sections.
Board joints and screw heads should be covered with Tecbor® joint paste ready to use.
Penetrations seals:
Fill the hole between the duct and the structural work with 50 mm and 145 kg/m3 rock wool and paint both sides with Tecbor® joint paste ready to use.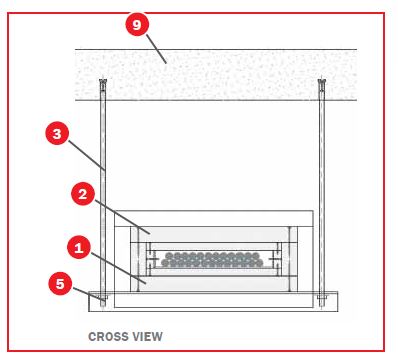 Do you have any questions about the product?