Tecbor® Boards - Constructive Solutions
Tecbor® Boards - Reinforced Concrete Protection
Despite its lack of combustibility and low thermal conductivity, the concrete experiences during the fire the formation of porous pressures and ductile internal tensiones which generate explosives splinters. This results in the loss of sections and the exposure of the reinforcement steel to extremely high temperatures.
Furthermore, due to the warming, in particular to temperatures higher than 300 ºC, the concrete losses its resistance. These problems can be faced through
the passive fire protection of concrete structural elements.
The fire protection of the concrete structural elements is used to prevent the chip explosion, which a higher degree of concrete is much more sensitive to.
Overall, the passive fire protection has become a priority issue anywhere where a combination with the following aspects is presented: chip explosion prevention; reinforcement and steel protection; so it doesn't exceed critical temperatures, protection so that the concrete doesn't exceed excesive temperatures.
Protection of Beams & Concrete Slabs Tecbor® A (R-30 / R-240)
Description of Assembly
As minimum and maximum thickness were tested depending on the requested REI, we will need a determined number of layers to be installed. The boards will be directly fixed to the concrete with metal impact anchors HIlti DBZ type.
Boards layout will be butt joint with no need of bonding paste. In the case where the gap between joints is bigger than 3 mm, Tecsel® mastic will be needed.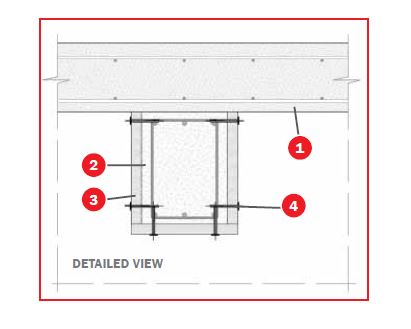 Do you have any questions about the product?
Learn More About
Reinforced Concrete Protection with: