Tecwool® F - Constructive Solutions
Tecwool® F - Steelwork protection (columns & beams)
Steel structures are a construction system used worldwide.
One of the main advantages is that they have great resistance per weight unit, which provides them with tremendous versatility and the possibility of creating complex yet light structures.
By contrast, one of the drawbacks of steel is its high thermal conductivity. Therefore, in the event of a fire, the progressive increase in temperature plus steel high heat transmission result in a reduction of the structure's bearing capacity and mechanical resistance. The resistance and elastic limit are modified after 250 °C, and after approximately 500 °C the drop in resistance is
significant enough so as not to support its design capacity.
To avoid this, mercor tecresa® introduces Tecwool® F mortar, tested pursuant to standard UNE ENV 13381-4 to determine the mortar fi re protection properties when applied to steel structural elements: beams, pillars or tension members.
Tecwool® F has been designed and tested to cover a great variety of steel profiles characterised by their section factors. Likewise, it is tested for several design temperatures specified in the standard.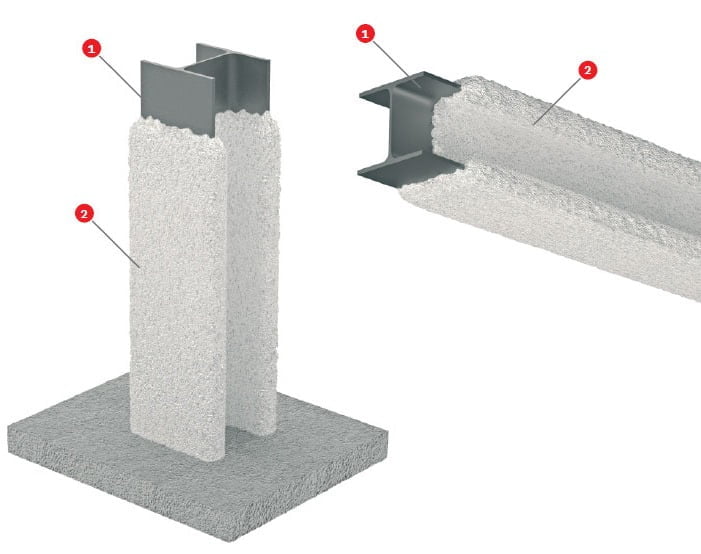 Norma: UNE ENV 13381-4
Laboratorio: APPLUS
Nº ensayo: 08/32302469
Laboratorio: FIRES
Nº Ensayo: FR-082-09
1. Steel Profile.
2. Tecwool® F (thickness according to the profi le's section factor and fire resistance time required).
Application
Tecwool® F is spread with a pneumatic machine pursuant to the following technical specifi cations:
The surface to be protected requires no prior primer, mesh or any other type of support for the mortar adherence.
The surface to be protected should be free from dust, oil, waste, poorly attached particles, paint leftover, etc.
It is recommended to use water with the application hose to wash dirt away from the faces. This will also help achieve a thermal balance between the mortar and the applied surface.
Tecwool® F can provide different finishings:
Rugged, smooth, painted, etc., according to different aesthetic requirements. Once the spread is completed and in order to obtain a smooth finishing, a roller should be used and pressed slightly over the wet mortar until the desired finishing is obtained. It is possible to paint the mortar with elastic acrylic coatings to form a steam barrier.
Before painting the mortar should be completely dry (28 days).
Once spread, mortar should be water sprayed superficially to ensure optimum settling of the cement.
Product document
Do you have any questions about the product?
Learn More About...
Steelwork protection (columns & beams) with: