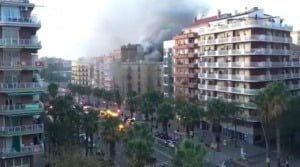 20 injured after a bakery fire in Barcelona
Actualizado a fecha: 2 December, 2018
A fire in a bakery in Barcelona's left last weekend a balance of at least twenty injured, one of them in critical conditions. Eight of the wounded are serious because of inhalation of smoke.
Barcelona Firefighters have received the fire alert about 7.00 am so they have moved to the scene, where they have verified that the deflagration has destroyed the place completely. Luckily, the incident has not caused any deadly casualties, but it has led to the confinement of the neighbors.
As a result of the explosion, a smoke column has forced the emergency services to confine the neighbors, although the fire has quickly died down and the area has been ventilated. The explosion has also caused damage in the buildings attached to the bakery and it has forced to mobilize twelve endowments of the emergency services. "
Just as we discussed after the fire at London's Greenfell Tower, evacuation measures have to be very precise and necessary. The use of fire retardant materials is vital if we are to avoid such situations.