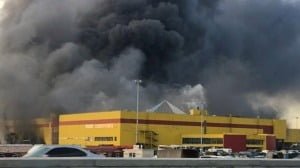 Big fire in a shopping center in Moscow
Actualizado a fecha: 2 December, 2018
A fire has occurred in the Sindika shopping center, located northeast of Moscow, reports the agency RIA Novosti. The fire has affected an area of ​​3,000 square meters. For now, no victims have been reported. The fire has caused several cars to explode in the downtown car park: "The high temperatures of the place have caused the explosion of several cars in the underground parking lot, where the fire has also arrived," said TASS sources.
Firefighters from the russian capital work to extinguish flames with the help of other regional teams, and two Ka-32 helicopters. According to RT, the rescue team have been able to evacuate hundreds of people who were in the center.
Fire Protection in Shopping Centers
The importance of Smoke Evacuation Systems in shopping centers is obvious. A small flame in any of the establishments within the center can fill it with smoke in a few minutes. That is when the passive fire protection system installed in the shopping center acts to ensure the safety of the people who are inside it during the time of the fire.