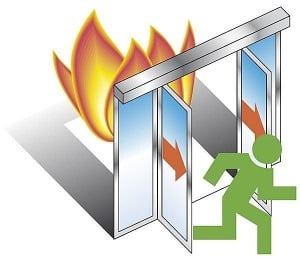 Fire evacuation in case of fires in factories. Succes story
Actualizado a fecha: 2 December, 2018
Firefighters controlled a fire last night at the province of Sevilla The fire affected the company Recilec in Aznalcollar. The fire occurred because of a spark into accumulated material during the night shift.
The company recycles electrical and electronic waste, also small electronic devices, radios, DVDs, videos, electronic toys or telephones. It is "an authorized company, a pioneer in Andalusia, for a proper environmental management of electrical and electronic equipment waste and batteries".
The fire began, according to our sources, fortuitously, while sparks started in a machine bu the flames have not reached the center of the factory. According to the EFE news agency, the fire has affected the company installations in El Matorral Street. Luckily, the fire is fully controlled and only a little group of firefighters is responsible for reviewing that the fire doesn't start again.
Our sources include the effectiveness of risk prevention courses that have allowed workers to control the situation until the arrival of firefighters. A controlled andproper evacuation is very important to prevent further damage and allow firefighters to work extinguishing the fire as soon as possible (How important are Fire Drills). This is achieved with a strong background in risk prevention where it is not only important to teach workers to leave the factory in case of fire, but also how to control themselves in tense moments like these one.
La Razón