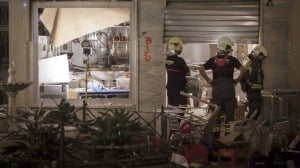 90 injured in a kitchen explosion
Actualizado a fecha: 2 December, 2018
Up to 90 people were injured, 4 of them seriously, after a gas explosion in the kitchen of a cafe in the center of Velez-Malaga. One of the cookers noticed the fire in the kitchen and alerted all the customers to leave the place as soon as possible. This has prevented more injuries of serious consequences.
According to El País: "The place where the explosion occurred, called Bohemian in Montera street, is in the center of the town. The emergency service has received about a dozen calls about 19:00 alerting about the explosion."
Firefighters were able to access  into the local and remove the remaining gas bottles to prevent further explosions while the street was closed to the public.
Every year there are thousands of accidents whose origin comes from fires caused in their kitchens, causing numerous economic and most importantly losses sometimes having to regret the loss of lifes. As we did in other article, we would like to remind the importance of fire protection systems in kitchens and its requirements:
– The automatic fire protection in kitchens must protect simultaneously all the cooking equipment
– Activation systems must not involve any risk to people.
–  They must allow a speedy recovery in activity after his performance.
– Easy installation, maintenance and integration with cooking equipment.
– Components of the installation must be safe against food and water.
– Allow the fulfillment of the law and the protection of life and property.