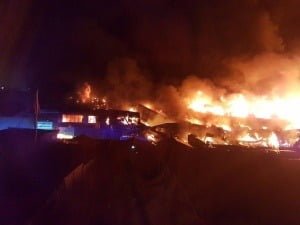 Fire in a industrial unit in London, ¿What do we need to protect them against fires?
Actualizado a fecha: 2 December, 2018
Over a hundred firefighters are tackling a huge fire that has broken out in a warehouse in Tottenham, North London. 20 fire engines are being used to deal with the blaze on White Hart Lane. A London fire brigade spokeswoman said warehouse storage units were alight and officers were still trying to determine the cause of the fire on Monday.
London Ambulance Service said one patient had been taken to hospital with burns to the hand. "We sent two ambulance crews, an officer and members of our hazardous area response team to the scene. One patient has been treated and taken to hospital with burns to the hand and we remain on stand-by at the scene." The injuries are not thought to be serious, he added.
Local residents were not told to leave their homes, despite the proximity of the fire to some houses. London Fire Brigade station manager Sam Kazmanli said: "This is a large fire, cylinders are involved so a hazard zone has been set as cylinders can explode when exposed to heat. "There is a lot of smoke in the air. As a precaution, local residents are advised to keep their windows and doors closed."
Twitter users have uploaded videos showing the building engulfed by flames, and plumes of black smoke are visible across large parts of north London.
English fire protection is on the eye
At least 60 high-rise buildings across the UK have failed safety tests in the wake of the catastrophic fire that swept through Grenfell Tower in West London on June 14. Moreover, the government announced plans to carry out tests on 600 buildings across the country.
Fire protection solutions for industrial units
That is why there is the necessity of doing something in order to prevent this fires from happening. The most delicate point in this issue is the wall that divides the two units or "partition wall" and within this element, the most exposed part to the flames is usually the covering connecting this two units.