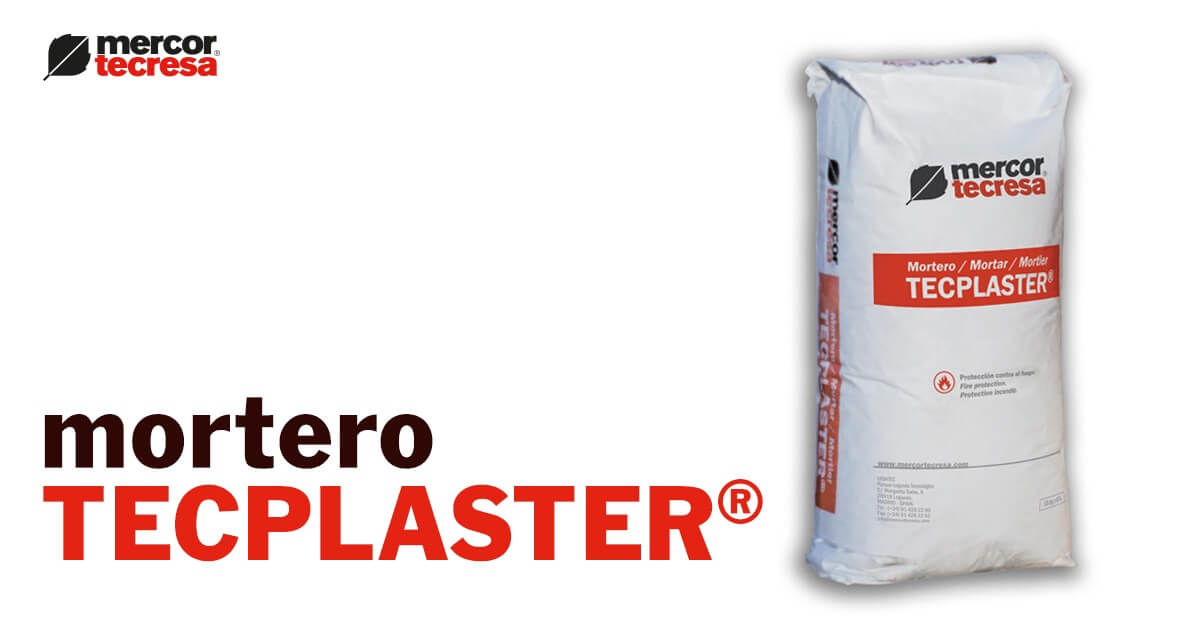 New test for Tecplaster Mortar applied to a composite slab with a fire resistance up to REI-240
Slabs made of concrete and Steel sheets were developed during the second half of the last century in order to improve the construction of skyscrapers in the United States. They present several advantages: they do not need shoring, their installation is quick, they are smaller, and they have a better resistance/weight ratio than traditional slabs. The same advantages are true today for Industrial buildings, offices, modular construction, and renovations.
They generally consist of a corrugated steel sheet placed at the bottom part, acting as frame and lost formwork, and creating a structure that will allow to distribute the loads over the corresponding beams. A reinforcing frame is placed over the steel sheet to avoid the cracking and shrinkage of the concrete slab. Sometimes, when the load or the span between beams and pillars are too important, we might have to add more reinforcing frames in the concrete slab.


Because of the metallic part (the Steel sheet), this type of structure is not going to react well to fire when it comes from below. It needs to be fireproofed and, therefore, a specific standard test has been developed. The UNE EN 13381-5: 2016 Testing methods to measure the contribution to fire resistance of structural elements. Part 5: Protection applied to mixed elements of concrete/steel sheet.
On more than one occasion, this structure has been seen to be treated as a simple concrete slab to estimate the thickness of the protection layer we need to apply, but this is not correct. The main difference is that the wide and thin metallic structure has a critical temperature of 350ºC, while the simple concrete slabs are being tested with a critical temperature of 500º, and thus need less protection.
Our R&D department at Mercor Tecresa® has developed a new use for our Tecplaster®  Mortar with Pearlite and Vermiculite. We submitted it to a standard test of "protection of a composite slab" according to the UNE EN 13381-5 norm, and received excellent results of thickness, reaching more than 240 minutes of LOAD BEARING CAPACITY, INTEGRITY, INSULATION (REI). Indeed, we reach 293 minutes with a 47,6mm thick layer. For a lower resistance, we can calculate the necessary thickness of the layer in the following table made with the results from the standard testing: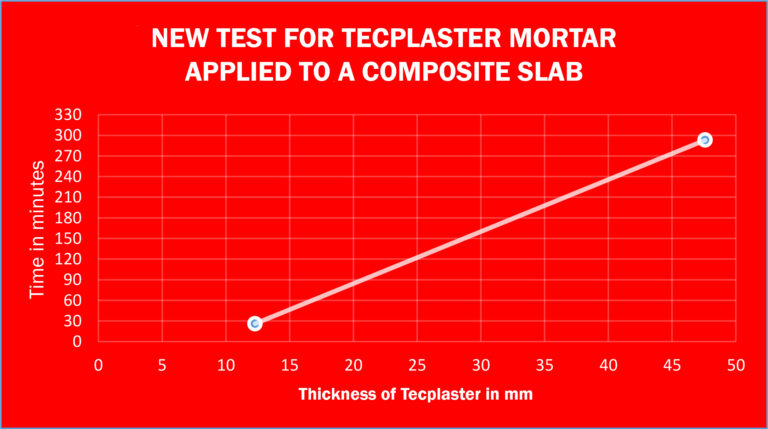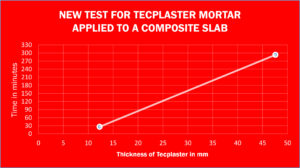 For example, to reach a REI-90 we have to apply a 22 mm thick layer of Tecplaster® mortar. For a REI-120 we will need a thickness of 25 mm, and for a REI-180 we will need a thickness of 33 mm. The thin layer needed, along with its excellent performance, makes the Tecplaster® mortar one of the best solutions on the market for this type o structure. The next picture shows how the projected mortar looks like on a composite slab: