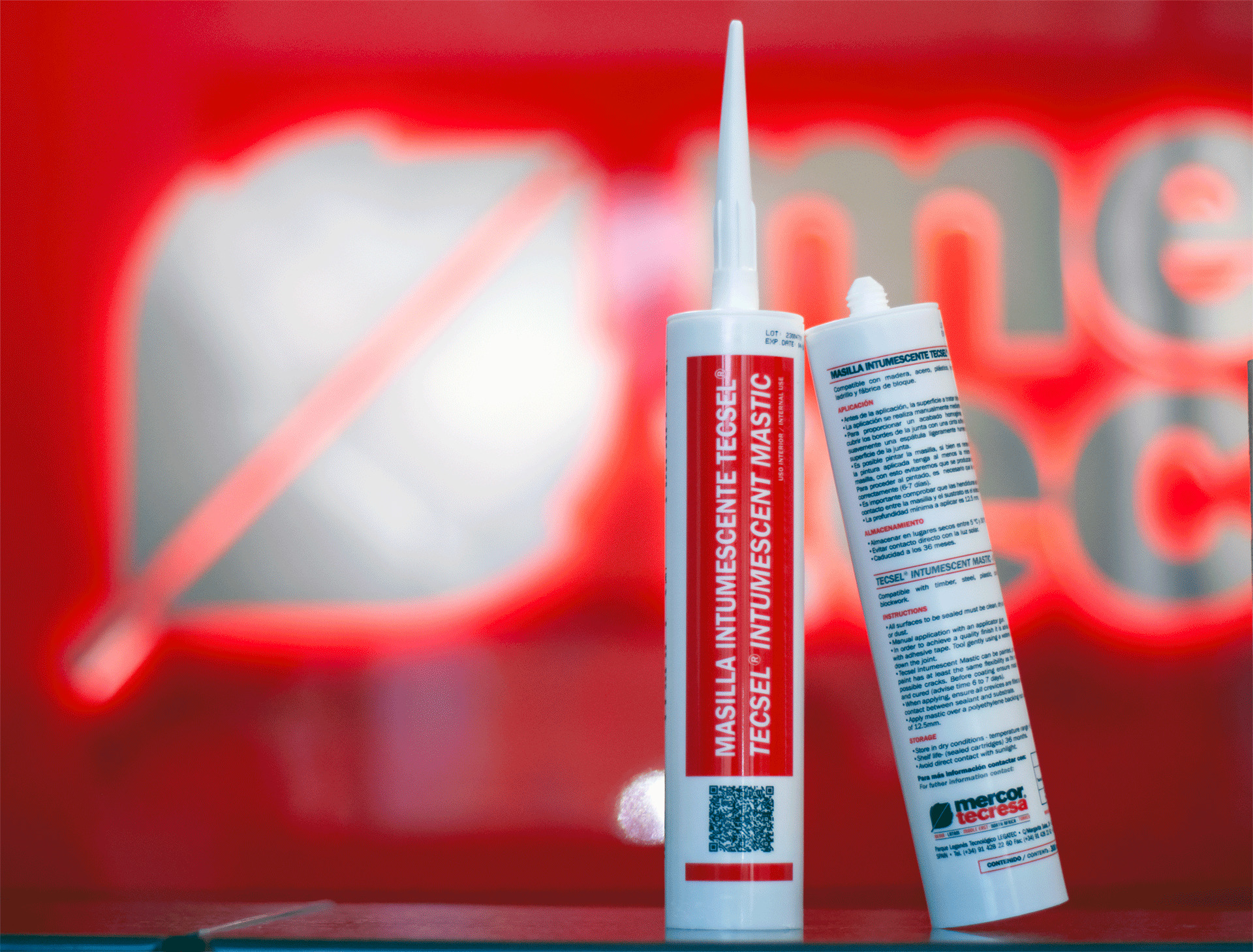 Protect your buildings with Tecsel® intumescent mastics
In the construction industry, safety is of utmost importance. Passive fire protection plays a crucial role in building protection. Tecsel® intumescent mastics are an essential resource to ensure the integrity of structures. These mastics have been meticulously designed, especially for joints, door frames and small gaps in sectorization walls and firestop elements.
Fire resistance: EI 120, EI 180, EI 240
The key to understanding the effectiveness of these mastics lies in their ability to be resistant to fire. Our product range goes from EI 120, equivalent to 120 minutes of protection, to EI 240, which provides a solid defense for 240 minutes. This means that in the event of a fire, our mastics act as a shield, limiting the spread of flames, smoke, and heat, thus ensuring the safety of buildings.
The importance of passive fire protection should not be underestimated. In the construction industry, safety systems, such as Tecsel® intumescent mastics, become a vital obstacle to fire to ensure the protection of human lives and buildings.
Different uses
Depending on your needs, our Tecsel® intumescent mastics are perfectly suited for both indoor and outdoor environments. For indoor use, we use acrylic resin. As for outdoor applications, we use neutral cross-linking silicone. This distinction is essential to ensure the sustainability and effectiveness of fire protection in each area.
How does Tecsel® intumescent mastic work?
In the event of a fire, the magic of our Tecsel® intumescent mastic happens. It expands, preventing the spread of gases and limiting the temperature increase around the compartmentalization elements of the building. The fire resistance provided by this mastic depends on the dimensions of the joint or the characteristics of the elements that we want to protect.
Easy application
One of the advantages of Tecsel® intumescent mastics is their ease of application. Before starting, make sure that the surface to be treated is clean and dry. The mastic is applied manually, by using an injection gun. Applying an additional filler substrate inside the joint helps to make sure the correct depth is achieved.
Professional Finish
To achieve an even finish, it is recommended to cover the edges of the joint with adhesive tape and smooth the surface with a slightly damp spatula. It is essential to verify that the gaps are completely filled and that the contact between the mastic and the substrate is adequate.
General characteristics of Tecsel® sealants
At Mercor Tecresa®, we pride ourselves on providing high-quality products and we are committed to following rigorous general characteristics to ensure excellence. Here are some of the guidelines we follow:
Testing: We are constantly evolving and adapting to regulatory changes by developing new tests, carried out in official laboratories accredited by ENAC or similar international entities and under UNE, EN, BS, UL, etc. We also carry out specific tests at the request of our customers.
Traceability: Our products have an internal quality control system that guarantees knowledge of the history, location, and trajectory of our batches.
Quality: Tecsel® products are subject to rigorous controls to ensure they meet their design specifications. Our ultimate goal is for the quality of our products to fully satisfy our customers during their final use.
Specialization: We look for specific and effective solutions for each individual case we encounter in our daily work.
Technical assistance: Our sales department, through its technicians, offers personalized advice on both constructive solutions and building regulations.
Application: We are always looking for the easiest and fastest applications, which makes our solutions the most competitive on the market.
Global presence: Directly, and through the companies of the Mercor® Group, tecresa® sells its products all over the world, seeking to be the reference in passive fire protection.
Safety in construction is essential, and Tecsel intumescent mastics, as well as our entire range of Tecsel® sealing systems are your trusted allies throughout the construction process.
Additional Benefits of Tecsel®
In addition to their sealing ability, Tecsel® products also offer other benefits. Among them, we highlight their durability, resistance, and the possibility of choosing between several variants for indoor and outdoor use.
Protect your building with Tecsel® and build safely!