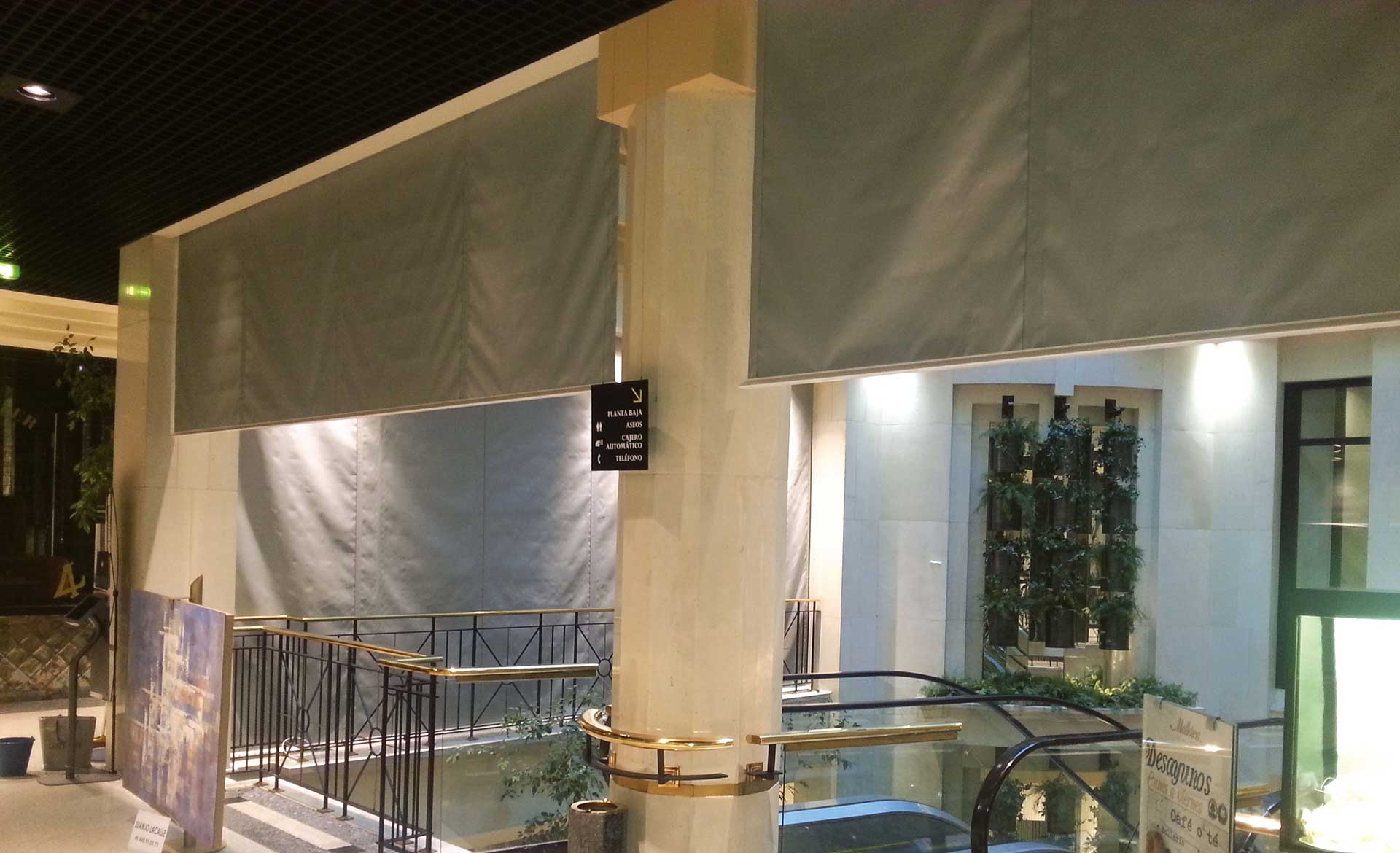 Smoke Containment and Sectorisation Curtains
Actualizado a fecha: 10 November, 2020
Fixed or mobile smoke curtains are made of a textile looking like a thick and flexible plasticised canvas. There are two types of curtains, with two different purposes:
Smoke containment and sectorisation curtains (fixed or mobile).
Fire curtains (mobile).
Let us talk about the first type. It usually forms part of a smoke evacuation system and its main purpose is to contain and sectorise the smoke in order to avoid its propagation, directing it towards the outlet and allowing its evacuation.
When we design the evacuation system of a space, the first thing to do is to compartmentalise it as required by the norm UNE EN 23.585: 2017 to avoid the spreading of the smoke. Indeed, a larger space allows the smoke to cool down, making it spread at floor level and blocking the escape routes. The norm is clear: spaces need to be divided into compartments equal to or less than 2000 m2 and the main axis of each compartment cannot exceed 60 linear meters. For bigger surfaces, the space needs to be divided with smoke curtains to be in accordance with the regulation.

We also install smoke curtains in several specific spaces, like buildings with atriums, shopping malls or big indoor public spaces, to keep smoke-free spaces like escape routes. Those smoke curtains are usually mobile and integrated in the false ceiling, and only come down in case of fire.

The standard tests conducted for this kind of smoke containment curtains are regulated by the norm UNE EN 12.101-1 : 2007 "Systems for smoke and heat control. Part 1: Specifications for smoke curtains." It is mandatory for those elements to have the « CE » marking. The standard tests set two classifications for smoke curtains. The classification D that subjects the curtain to a temperature of 600º C according to a standard heat curve, and the classification DH that subjects the curtain to a temperature exceeding 1.000 ºC after two hours.
They are usually made of a textile fibre resistant to high temperatures and smokeproof. Their default colour is grey, but they can be manufactured in white if specifically requested. A counterweight is placed on the inferior part of the curtain to tension the fabric and control its deformation in case of fire. The norm requires the curtain to fall 10 cm lower than the estimated smoke layer in order to absorb the deformation caused by the hot fire gas pressure.