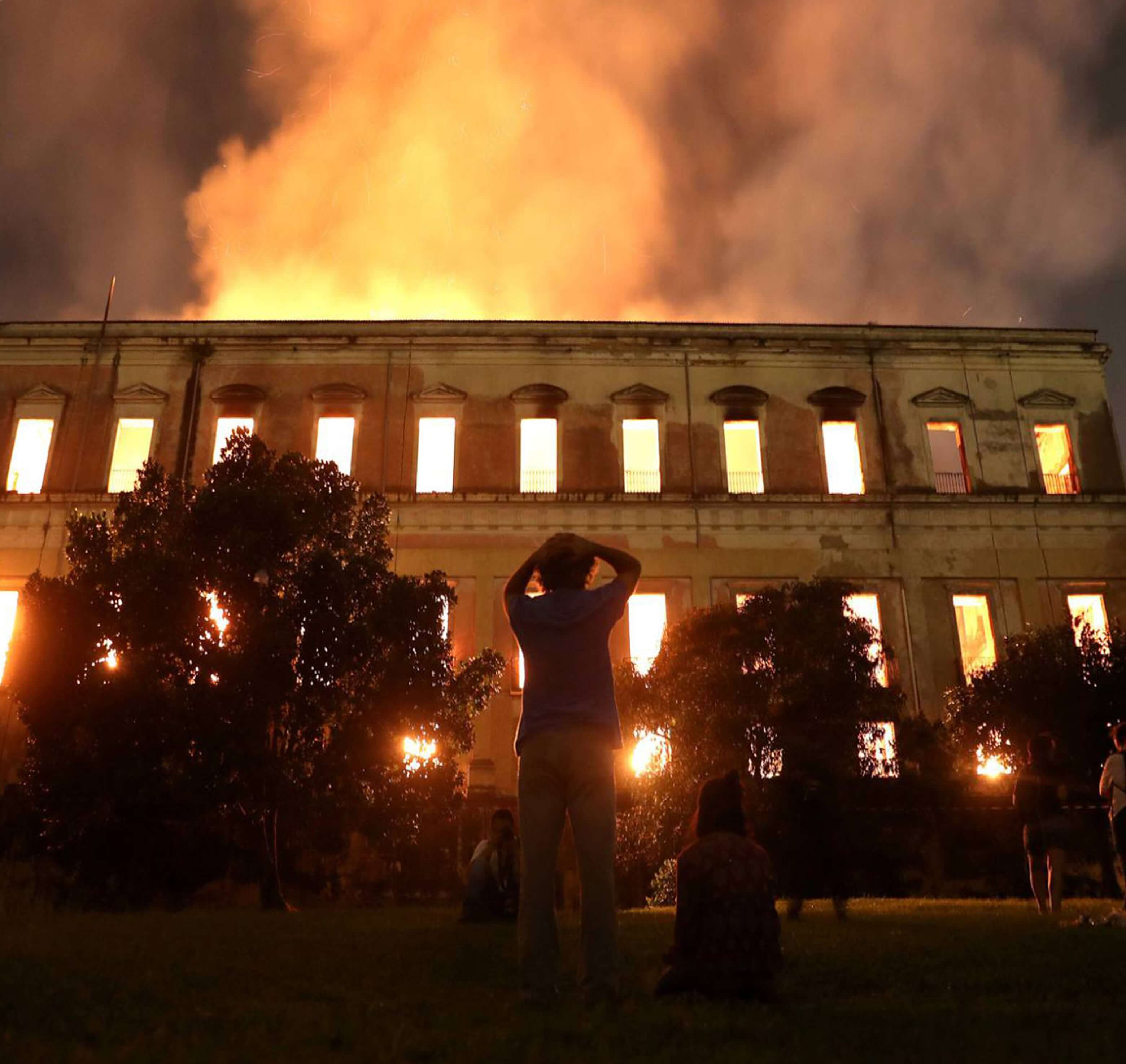 A fire has gutted the National Museum in Rio de Janeiro, the oldest in Brazil
Actualizado a fecha: 15 January, 2019
The fire started when the museum was closed. The causes of the blaze are not known yet
A massive fire has engulfed Brazil's National Museum, in Rio de Janeiro, from Sunday to Monday night. It was the oldest scientific and historical institution of the country. Founded in 1818 by king John VI, when Brazil still was a former colony of Portugal, the museum held 20M items, including Egyptian mummies, acquired by emperor Peter I, or the oldest fossil of Latin America, found in Brazil and known as Luzia.
It also contained the biggest and most important indigenous artifacts collection and the richest anthropological library of the country. The fire broke out at about 7:30PM in Rio, when the museum was already closed. The causes of the blaze still remain unknown. Nonetheless, the National Museum suffered severe lack of financial support for the basic maintenance of the activities. Aerial pictures show the palace, located at the Quinta da Boa Vista area, completely engulfed by the flames and the challenge to control the fire by the firemen. Before being used for exhibitions, the building was the home of the Portuguese Royal Family.
A negligence process
The fire has shocked profoundly the whole country and its scientific community, who saw the incident as a negligence by Brazil with regard to its memory. "It is an unbearable catastrophe", told Luiz Fernando Dias Duarte, vice-director of the museum. "It is 200 years of memory, science, culture and education. Everything getting lost in smoke due to a lack of support and awareness from Brazilian politicians", said Duarte on a TV interview. He vents and finds support on reality. On its 200th anniversary last June, any Government minister accepted the assistance invitation to the ceremony. The museum's Management had just closed a deal with the Brazilian government's development bank, BNDES, for funds that included a fire prevention project. But fire came before help.
Brazil's president, Michel Temer, lamented the tragedy in a press release. He said the loss of the museum's collection is incalculable. "Today is a tragic day for Brazil, a sad day for all the Brazilian". Culture Minister, Sergio Sá Leitão, assured the fire was part of a negligence process and this incident is a warning to other museums. However, this is not the first Brazilian museum gutted by fire. In 2016, the Brazilian Film Archive, in São Paulo, lost a collection of 1000 Latin American films due to a fire that reached one of the archives. Three months before, the Portuguese Language Museum (Museu da Língua Portuguesa), also located in São Paulo, was also devoured by flames.
Source: El País