AlveolTec® EI-120 partition wall + 55 dBa of acoustic insulation: neither fire nor noise
Actualizado a fecha: 8 August, 2019
One of the most important updates of the TBC (Technical Building Code in Spain) was the one regarding the protection from noise. It restricts, in regular conditions of use, the risks of developing pain or illnesses produced by noise. For this reason, the regulation set some limit values for horizontal and vertical divisions according to the type of facility to protect and its relationship with the environment.
This new regulation sets as protected areas:
Rooms (bedrooms, living and dining rooms, libraries, etc) in residential buildings.
Classrooms, libraries and offices in educational buildings.
Surgeries, bedrooms and waiting areas in sanitary buildings.
Offices, meeting rooms in buildings for administrative purposes.
These protected areas must have an acoustic insulation equal to or greater than 50 dBa of aerial noise regarding areas of different use or common areas; and 55 dBa within installations and activity zones.
Double requirement
The Basic Document of Safety in case of Fire (DB SI in Spanish regulation) also sets which fire resistance must have the party walls according to the use and the height of the building.


To comply with these tough requirements – EI-120 fire resistance + 55 dBa of acoustic insulation- with a unique solution, mercor tecresa®'s R&D department has developed a partition wall made with our AlveolTec® fireproof solid block made of gypsum, and the following materials that will be soon available on our website: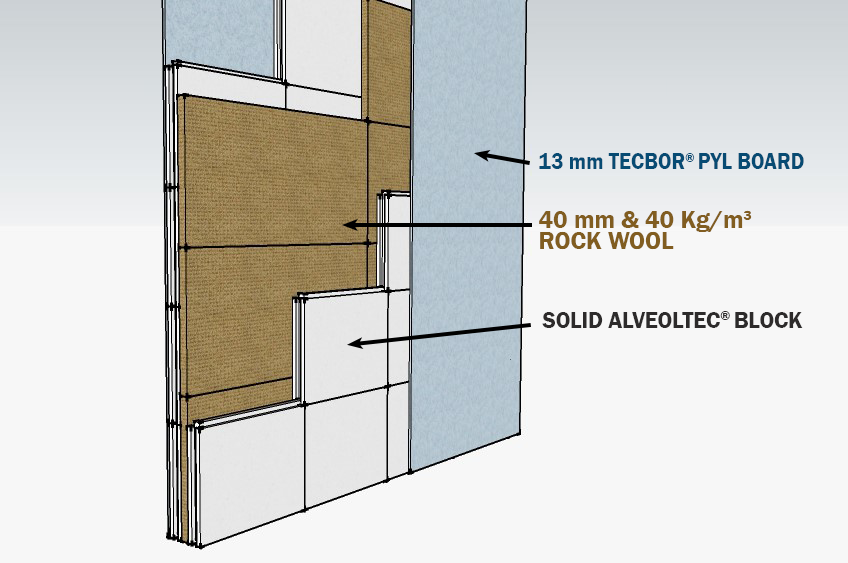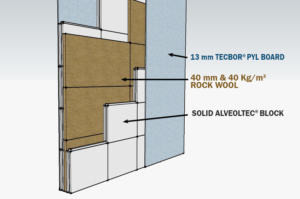 This easy solution does not need any auxiliary supporting structure. It allows the correct sectorization both for fire and noise. It is the perfect system for divisions between shafts for services and dwellings, as well as for any section that require 55 dBa of acoustic insulation.
Contact our technical team for further information about our products.