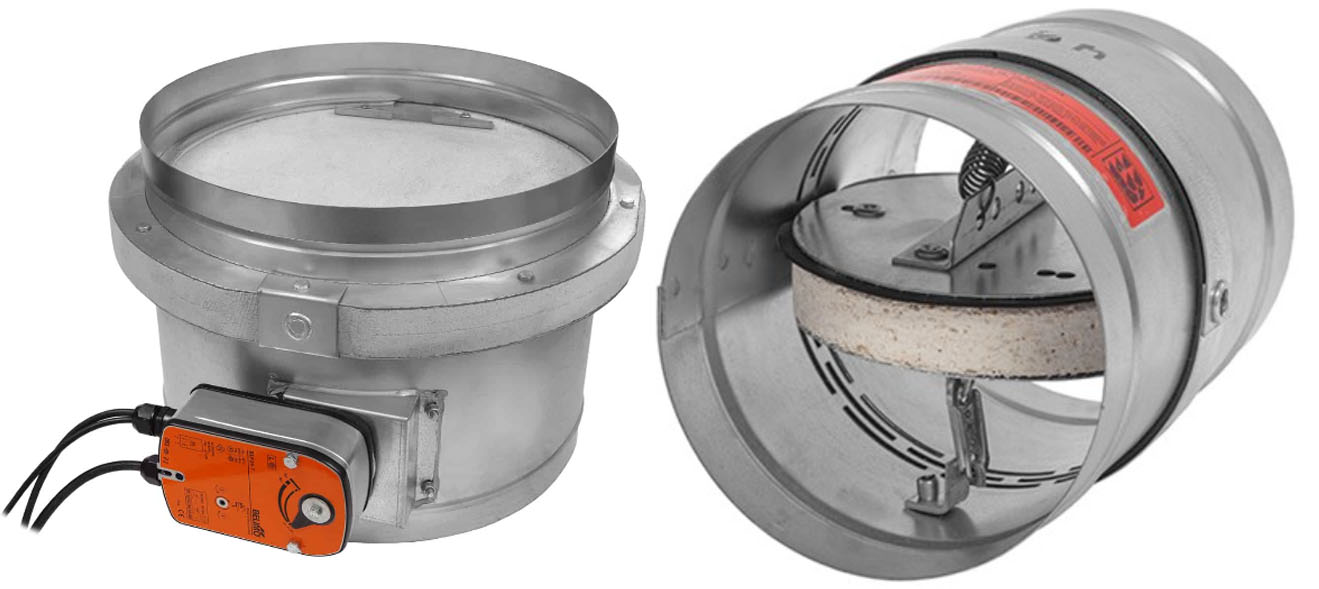 Circular Fire Dampers EIS-120
As seen in the previous post on square and rectangular dampers, ventilation ducts can participate in spreading the fire uncontrollably through a building. It is therefore necessary to pay special attention to the sectorization of these elements, which are increasingly present in current constructions.
We have also developed fire dampers suitable for circular ventilation ducts to avoid having to change the shape of the duct section.
In Europe, since 2010, fire dampers have been regulated by the harmonised standard EN-15650: "Ventilation of buildings. Fire dampers" and the CE marking is mandatory. The tests shall be carried out under the standard UNE EN 1366-2: "Fire resistance tests of service installations. Part 2: Fire dampers". Its qualification is obtained through the standard UNE EN 13501-3: "Classification from data obtained during fire resistance tests of products and elements used in building service installations: Fire-resistant ducts and dampers". Our fire dampers comply with these standards and also have the CE marking.
The dampers must meet the usual criteria of Integrity "E" and Insulation "I", as well as the smoke proof "S" criteria.
Like our square and rectangular dampers, we have developed two models with the EIS-120 classification:

The FID-PRO damper: This damper has a basic and economical configuration that meets all the parameters required by the standard tests and maintains the EIS-120 classification up to a diameter of 315 mm. These dampers are made of the following elements:

The FID-O damper: This damper counts with a structural reinforcement, designed for larger diameters. It has been tested to meet the EIS-120 classification up to a diameter of 630 mm. These dampers are made of the following elements:

These dampers function under positive security, which means they close thanks to the force of a spring against which a fuse or a motor must fight in order to keep it open. This way, in the event of a power outage, the damper will always close precautionarily to prevent the fire from spreading. The mechanism that keeps them open can be:
A bimetal thermal fuse
A 24v DC motor
A 220v AC motor
The reset of the dampers in the case of a false alert can be done both manually (with a handle) and electrically. There is also the possibility for the damper to send opening and closing signals to a central fire station.