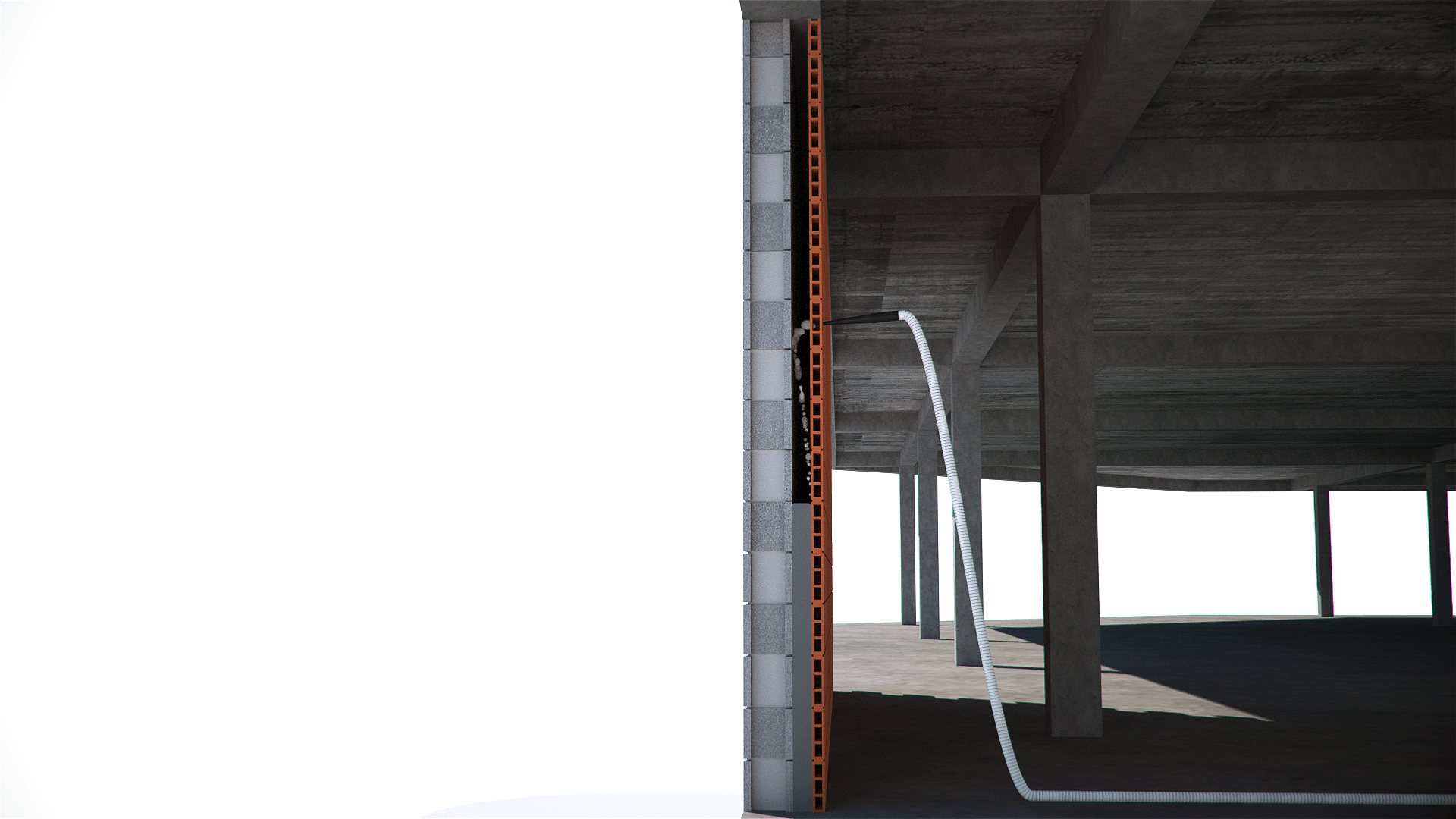 Thermal Isolation of Facades (Part II)
As a continuation of the previous post, today we are going to talk about isolation types.
Inside isolation:
This system is used when the facade only has one sheet, which can be made of concrete block, double-hollow brick or ceramic block, and we want to provide it with isolation. As already mentioned for multi-storey buildings, to avoid the thermal bridges produced by the edge of the slab, it is always preferable to perform thermal isolation on the outside. But sometimes this cannot be done because it is a facade protected by Heritage, or because some of the residents want to do the isolation and others do not.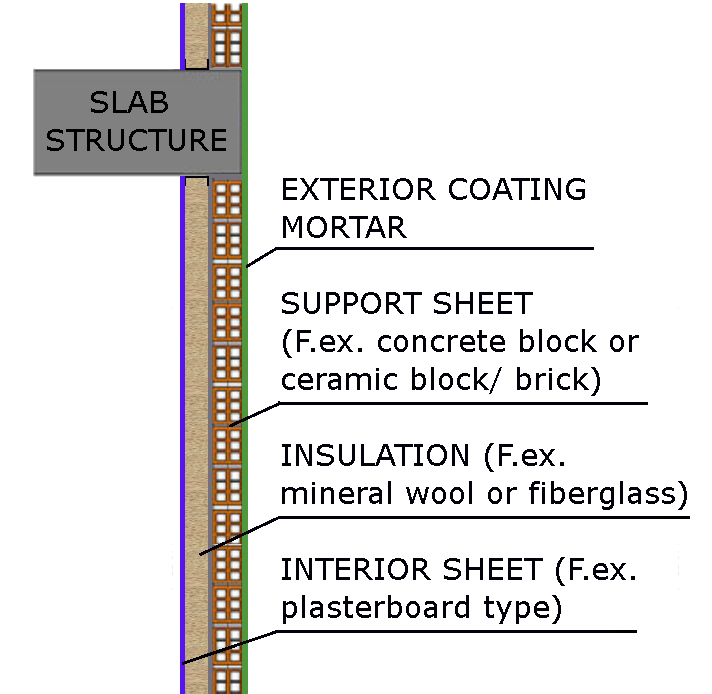 This isolation is very common in Europe, especially in France, in single-storey buildings where there are no intermediate floors. This type of isolation is carried out on a concrete or ceramic block, on the inside, and the block is in sight from the outside until the house finishes settling on the ground. When this happens, the outer coating is applied with a monolayer product to prevent cracking. For this type of interior insulation, a layer of Rock Wool is usually used and, later, it is covered with a Plasterboard Plate.
2. Outside isolation:
It is by far, besides ventilated facade, the most widely used insulation system in Europe. In Spain, the abundance of clay soil has made brick facades part of our way of building. However, these exterior insulation systems are gradually taking hold in our buildings, especially in newly built areas.
SATE (en inglés sería OTIS) (Outside Thermal Isolation System) is not an exclusive system. Many manufacturers have developed different products (meshes, fixing systems, adhesives and coating mortars) to make this type of isolation, which can also be made of different materials such as EPS panels, XPS, Rock Wool Blanket and Wood fiber or cork panels. These panels are supported with special fixings commonly called "mushrooms" due to the shape of their outer plastic disc.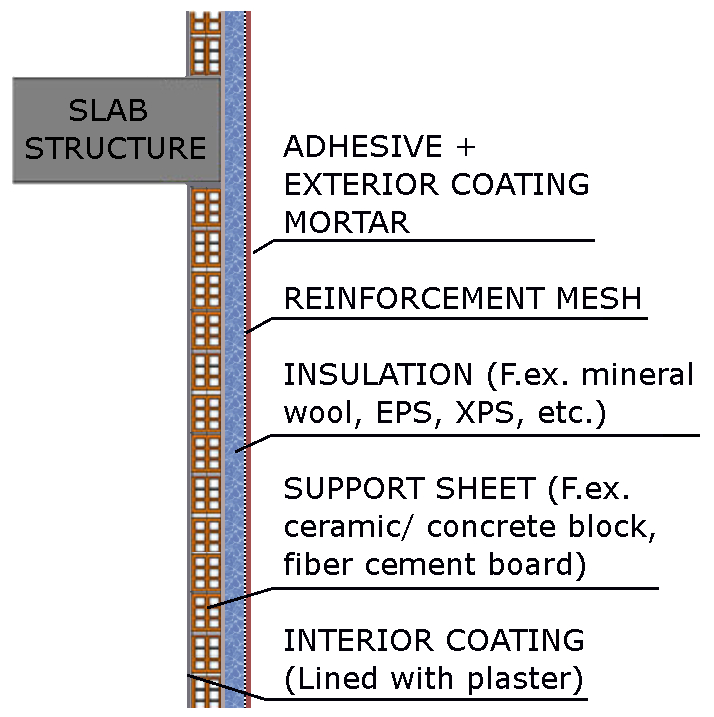 Regarding the type of isolation used, in addition to the thermal transmission coefficient of each material, according to the CTE, two factors must be considered for this type of facade:
The Reaction to Fire, according to the DB-SI in its section 2: External Propagation:


"The reaction-to-fire class of materials occupying more than 10% of the surface of the exterior finish of facades or of the interior surfaces of ventilated chambers that these facades may have will be B-s3, d2 up to a height of at least 3.5 m, in facades whose lower departure is accessible to the public from the outside floor or from a roof, and over the entire height of the facade when it exceeds 18 m, regardless of where locates his departure. "
This implies that the reaction to fire of all the elements that are part of the façade isolation system must be carefully reviewed, not just the exterior coating, and that it does not happen as in Grenfell Tower in London where seventy-one people died. On the facade of this tower there was a combustible material covered by an aluminum sheet panel that started to come off quickly.
Acoustic Isolation from Exterior Noise: depending on the area where the house is located, the DB-HR establishes acoustic isolation on the facade between 30 and 47 dBA. Here some low-density materials such as EPS or XPS can give problems.
3. Isolation through Ventilated Facade:
It is the system that best optimizes the building's energy consumption and allows better regulation of condensation. In addition to that, in summer, the ventilation of the chamber allows a greater degree of comfort than other types of isolation.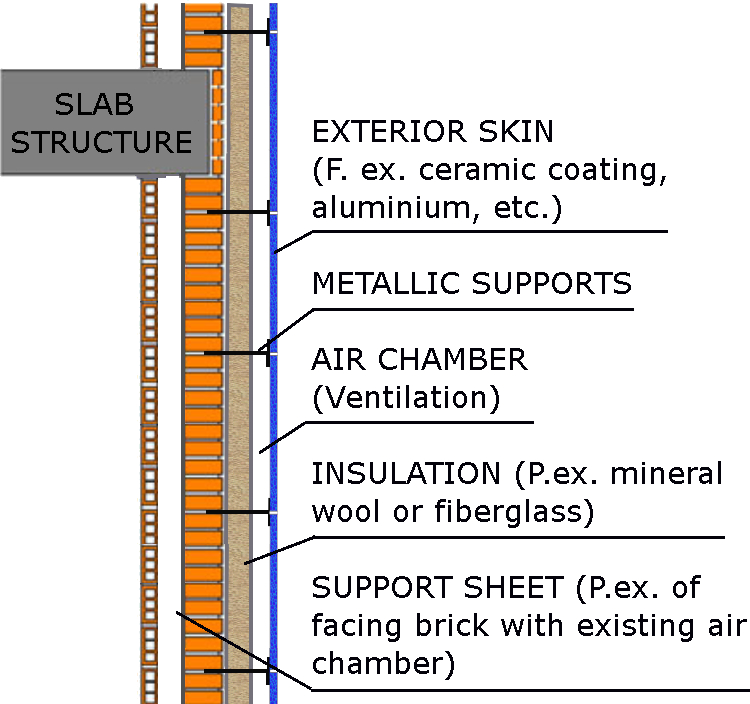 As in the previous case, various types of isolation can be used, always complying with the guidelines established by the CTE, both those relating to the Reaction to Fire of the materials and the necessary acoustic isolation.
From mercor tecresa® we have developed two ideal products for isolation based on Rock Wool:
Tecfill®: is a flaked rock wool-based product designed to fill empty isolation chambers by blowing. The good thermal behavior of the product together with its density (80 Kg / m3), which provides acoustic isolation, and its zero contribution to a possible fire (EUROCLASE A1) gives an ideal product to improve thermal isolation in old buildings with this kind of facade.
Tecwool Thermal Mortar®: This product is applied by spraying and its main components are Rock Wool and white cement that acts as a binder. It is the best product for Ventilated Facades and Interior Isolation because it offers good thermal behavior, it is fireproof (EUROCLASE A1), it has excellent air noise absorption properties and, as it is applied by spraying, it offers continuous isolation over the entire surface. Unlike fiber blankets that can produce thermal bridges in fissures that happens over time in the joints.