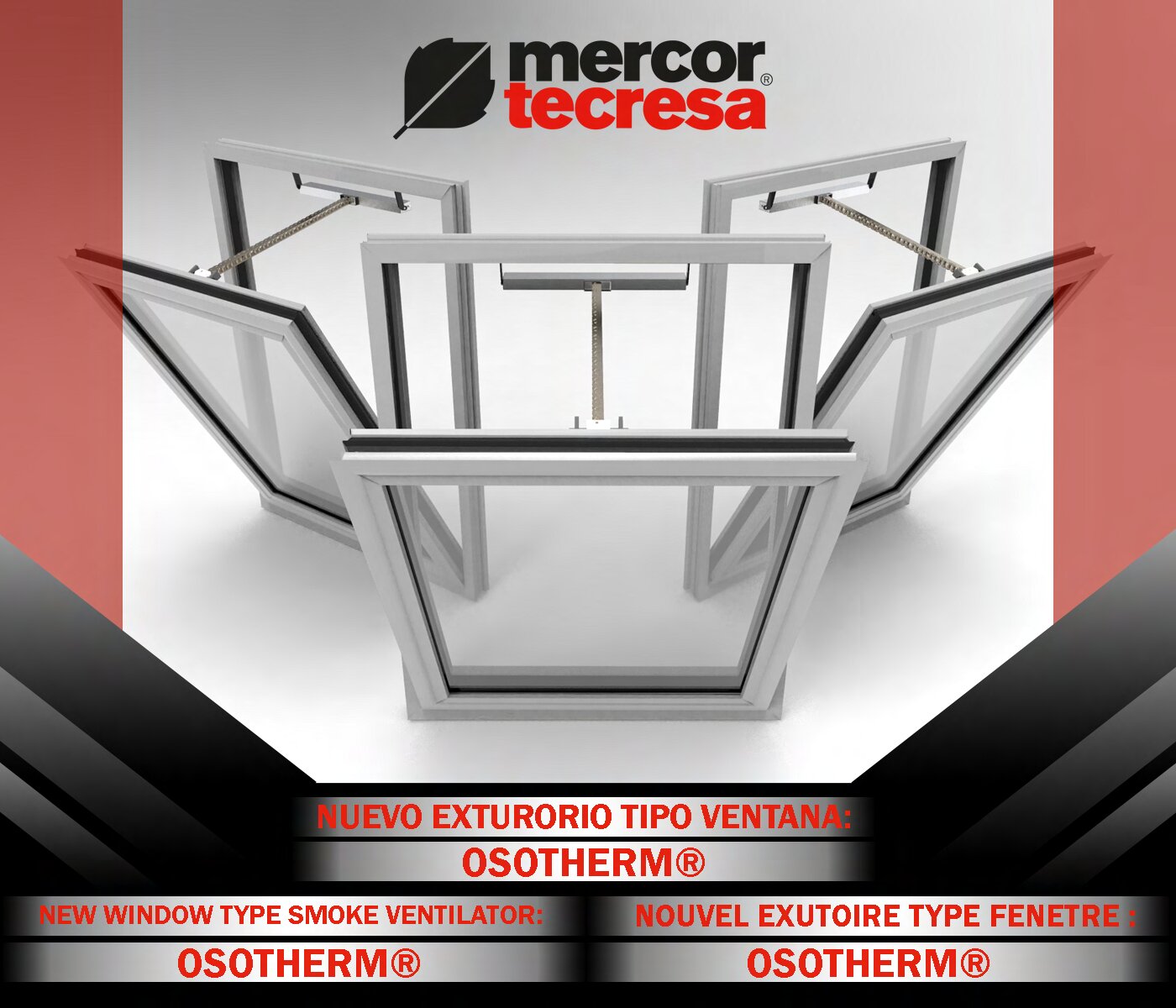 New Window Type Smoke Ventilator "Osotherm"
From the R&D department mercor tecresa® we have created a new product called OSOTHERM® to complete our already extensive smoke ventilator range.
These devices are primarily conceived to evacuate large quantities of smoke in case of fire and have the additional function of carrying out the daily ventilation of the spaces they are in.
In general, the smoke ventilators are divided in three fundamental types:
| | | |
| --- | --- | --- |
| | | Ventilator Window Osotherm |
The OSOTHERM® smoke ventilator is part of the window type, and its main use is intended for public places such as malls, multiuse rooms, administrations, etc. Its conventional window look gives it an aesthetic appearance more appropriate for this kind of structures.
Like the rest of our smoke ventilators, OSOTHERM® is in line with all the specifications required by the standard UNE EN 12.101-2 regarding the tests needed to obtain the CE marking.
Those tests are:
Calculation of the free surface for smoke evacuation according to the smoke ventilator dimensions.
Function test at high temperatures, to make sure the ventilator works during at least 30 minutes when reaching a temperature of 300ºC.
The opening despite snow load. This test does not apply here because this smoke ventilator is placed vertically, and the snow accumulation is not possible.
Function test of Wind Load with maximum values of 1000 to 1500 pascals according to the smoke ventilator dimensions.
Studies of the opening and closing cycles to check the reliability of the ventilator. The tests are performed for 000 cycles of smoke evacuation and 10.000 cycles of ventilations.
Function test at low temperatures, to make sure the ventilator works under 0ºC.
Test of maximum opening time "60s", to ensure that the smoke ventilator is completely open within a time frame of one minute, as required by the standard.
The dimensions of the OSOTHERM® smoke ventilator start at 80×80 cm and can go up to 270 cm horizontally and 220 cm vertically. Its angle of opening goes from 10º to 90º.
By default, this device comes with an electric motor functioning at 24v, encapsulated in an aluminium case. Its resistance also goes up to 30 minutes at 300ºC, as required by the standard UNE 12.001-2.
Nowadays, it is essential to ensure thermal comfort in public buildings at a low energy cost. That is why OSOTHERM® has been designed with the option of adding a triple glazing if it were necessary. The interior insulation of the frame keeps the ventilator from acting as a thermal bridge between the exterior and the interior of the building.