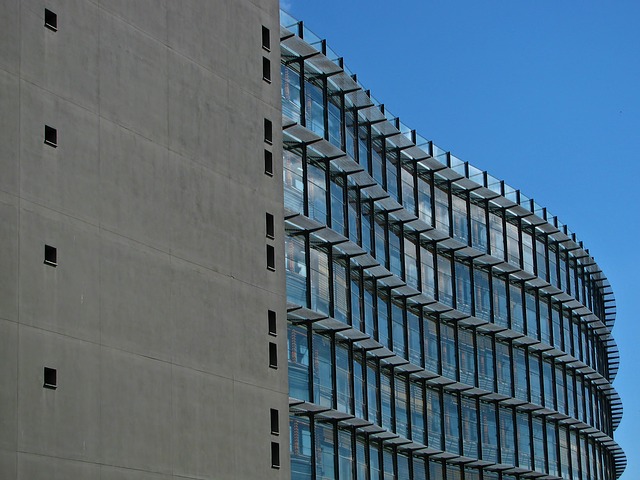 Sealing expansion joints for a proper sectorization in the service crossing
Actualizado a fecha: 1 October, 2019
Today, we continue to dedicate our blog to the sealing in the service crossing. This time we focus the attention on the expansion joints and the small holes, both those that contain cables and those that simply have not been closed properly.
Expansion joints and small gaps
There are products specially design to prevent the spread of fire through an expansion joint between fire sectors. They are distinguished by the type of finishing and installation. These are the intumescent mastic, the self-expanding foams with high fire resistance and the ready-to-use sealants for joints. The characteristics of these solutions are explained hereunder:
1.- Intumescent Mastic
It has a similar behaviour to a silicone, both its appearance and its way to install. It is applied by an injection gun – like silicone – and it is easily malleable while the product is freshly applied. Once it dries, it resembles silicone because of its soft rubber appearance. This product reacts to fire by expanding its volume and producing an endothermic reaction (absorbs heat). mercor tecresa®, has developed this product called Tecsel® Mastic valid for several uses:
– Tecsel Mastic for Interior use (the product is water-soluble; it is the most common used).
– Tecsel Mastic for Outdoor use (the product is waterproof)
– Tecsel Plus Mastic (similar to the first one but allows much more elasticity; especially suitable for joints with a lot of movement).
What kind of joints could we protect from fire with intumescent mastic? These products developed by mercor tecresa® protect joints up to a maximum of 30 mm and a maximum depth of 15 mm. To optimize the depth of the joints, it is possible to place Porexpan or Rock Wool. With this mercor tecresa® product, available in white and grey colours, we will achieve four hours maximum fire resistance (EI-240).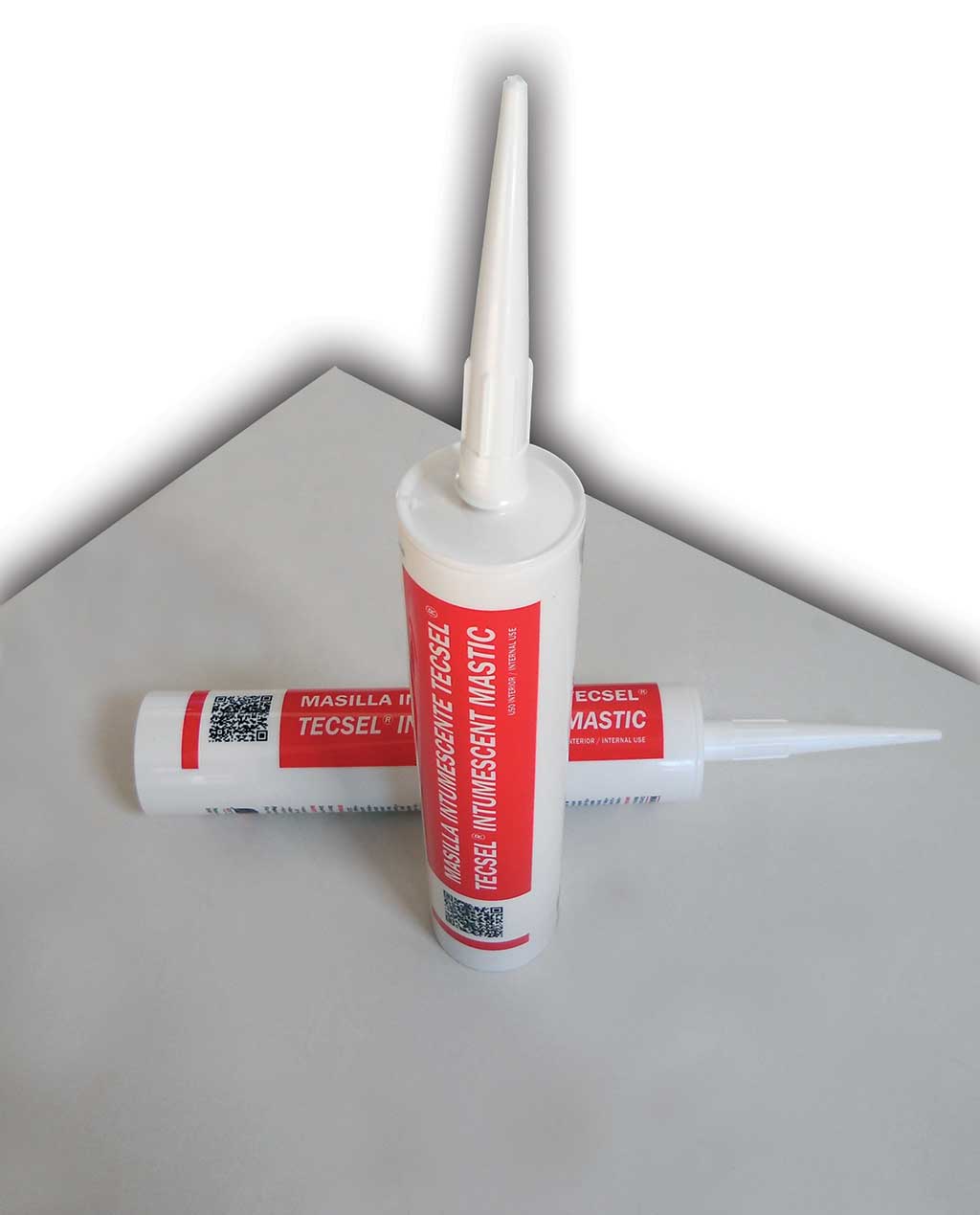 In this same range of products, we have the Tecsel® Self-Levelling Silicone product, especially suitable for sealing horizontal joints with great movement and up to 50 mm. To its application, we will previously place a rock wool bottom and then the material directly from the container (bucket). We get a EI-240 classification.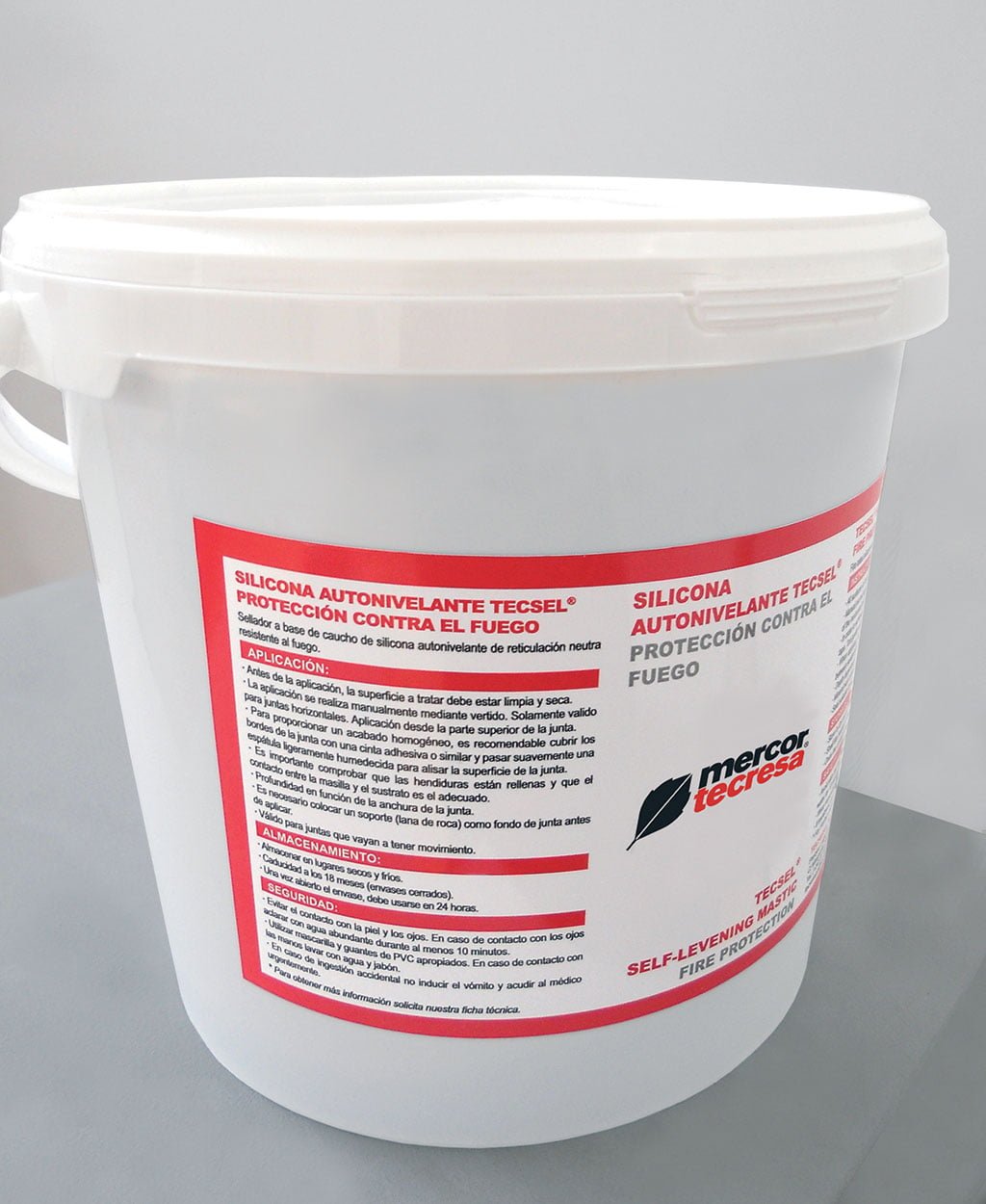 2.- Self-expanding Foam with High Fire Resistance:
It is a polyurethane foam that does not spread the fire, but it expands and prevents the passage of the flame and the high temperatures through the joints and small gaps. This product is very fast installed, versatile and economical. Regarding its finish, it is similar to a polyurethane foam, but with a different colour.
The self-expanding foam with high fire resistance developed by mercor tecresa® is called Tecsel® Foam. Grey coloured, it does not require a joint bottom since it usually allows the joint to be completely filled. To facilitate the entire joint filling, it is advisable to previously wet the sides of the joint so that the product penetrates easily. As with Tecsel® Mastic, the maximum joint width that it allows is 30 mm. Regarding the classification, it is EI-120.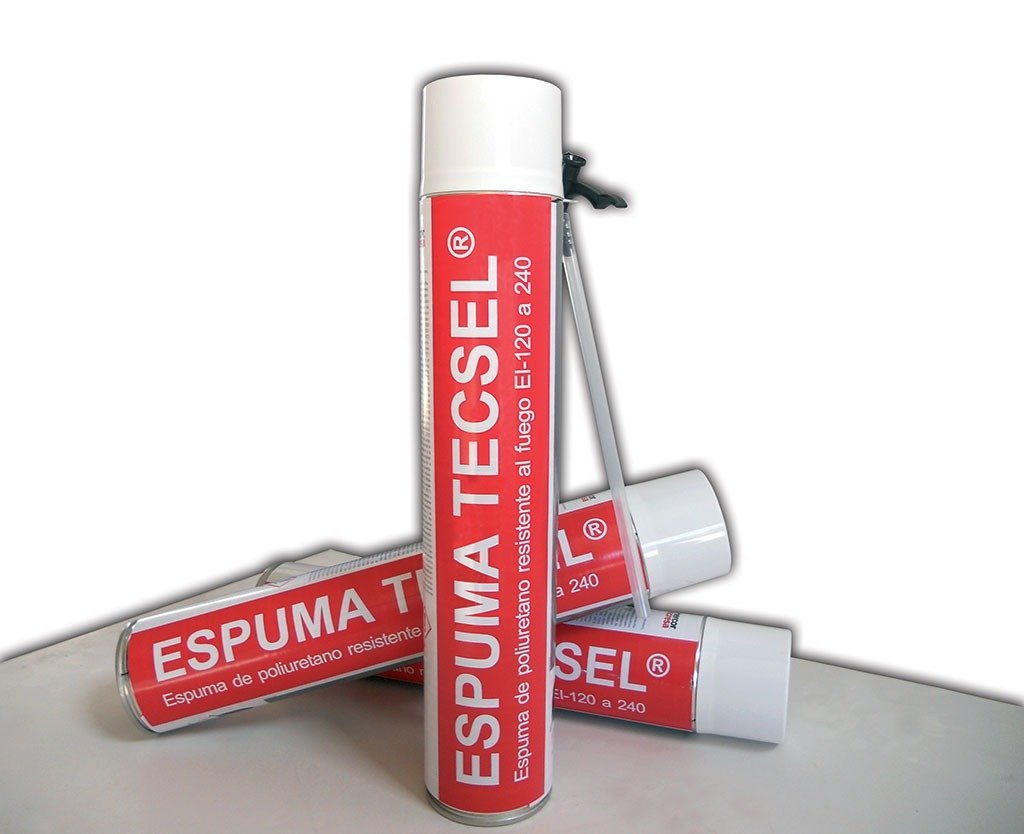 3.- Ready to use Joint Sealant
It is an elastic product, adapted to each joint width and ready to be directly placed.
The ready to use joints sealant for mercor tecresa® is called Tecsel® Flexible Sealant. It is composed by mineral fibres with intumescent graphite and covered by a protective plastic. The advantage of this product is that its adequacy to the size of the joint. The introduction into the joint is made directly, under pressure without any difficulty.
What is more, this product is allows to seal joints up to 10 cm wide, achieving a fire rating of up to EI-180.